After a brief hiatus from the South West Peninsula League, newly promoted Stoke Gabriel and Torbay Police hope to kickstart their season with a battling 3-1 victory over local rivals Dartmouth.
Dartmouth started the game stronger, keeping hold of the ball and nullifying early threats from Stoke, with goalkeeper and captain Scott Corderoy making some smart early saves.
Both sides traded tough challenges and half chances in the first quarter of the game.
However, as Stoke grew into the game and put Dartmouth'sback four under pressure with their high press, mistakes started to creep in,and Dartmouth struggled to get the ball out of their own half.
Just shy of the half an hour mark Stoke made the breakthroughwith striker, Alfie Slough tapping in from close range to open his scoring forthe night. Five minutes later Stoke doubled their lead, Dartmouth's goalkeeper failed to clear a lofted through ball and Slough slotted the ball into an empty net.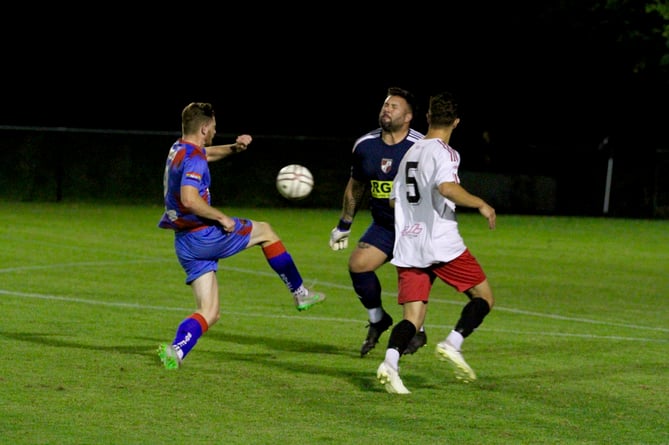 (Alfie Slough bundles the ball past onrushing goalkeeper Scott Corderoy Credit: Josh Goodman)
Stoke controlled most of the first half, but Dartmouth came out the stronger after half time and halved Stokes' lead in the opening minutes of the second half, with Tom Burt finishing smartly passed the goalkeeper into the bottom right corner.
(Dartmouth winger Tom Burt under pressure Credit: Josh Goodman)
Like the first half, the opening minutes of the half were controlled by Dartmouth but struggled to convert the chances they had.
As both teams tired, the game opened up with chances comingand going at both ends.
As Dartmouth continued to waste their opportunities, Stoke capitalised with a moment of brilliance from the talented Saul Vanes, taking the ball from outwide and beating the left back and centre backs to finish well into the left corner.
Stoke had the better chances throughout the rest of the gameand on another day, they could have had more, with Slough missing out on a hattrickdue to the offside flag.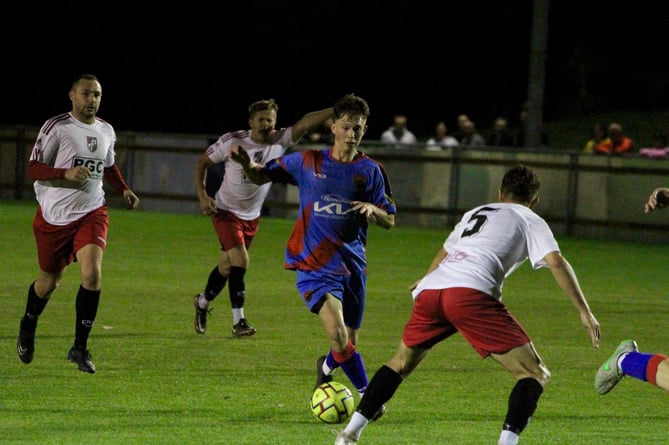 (Stoke Gabriel break forward Credit: Josh Goodman)
After the match a buoyant Stoke manager, Sam Biscoe said: "We'revery pleased with the three points… they had a big heart today and they battledit out, sometimes you don't perform but still battle it out, get a performanceand the three points, so you've got to be proud of the lads."  
Dartmouth manager, John Frost said: "I think the occasion got to them and we just kept giving the ball away and when you give the ball away at this standard you get hurt… I have a lot of injuries at the moment, we've got to keep playing these derby's and it's catching up on us, but that's what football's about."  
Stoke Gabriel and Torbay Police FC: Slough (27, 32) Vanes(63) Greeno (Yellow card)
Dartmouth AFC: Burt (48) Spence (Yellow card)