Green machine's under 12s book a date at Twickenham
Thursday 9th October 2014 10:00 pm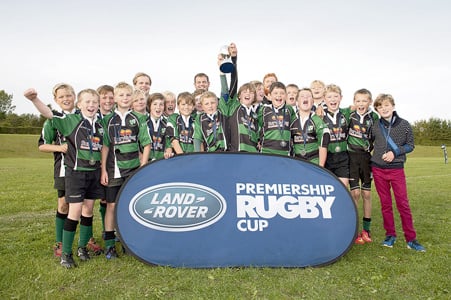 The victorious Ivybridge under 12s team
()
Subscribe newsletter
Subscribe to our email and get updates right in your inbox.
Ivybridge retained their position as the best in their age group in the South West after a full day of absorbing rugby in Exeter on Sunday.
The leading 20 teams from Devon, Cornwall, Somerset and Dorset gathered in Exeter to compete for the trophy and the chance to represent the region at Twickenham in May next year.
A tough group contained Newquay, Exeter Saracens and Barnstaple with the first game against the classy Newquay side that Ivybridge had narrowly beaten in last year's semi-final.
It was nip and tuck, with Newquay taking the lead before Ivy­bridge stormed back with Ewan Stephens crashing over to equalise the scores.
The second game was against Exeter Saracens and an accomplished all round performance meant Ivybridge ran out winners by four clear tries.
The final group match was against a physical Barnstaple side. Ivy's front five stepped up to the challenge with Solly Stinch­come, George Barnes and Barney Collinson dominating the scrums.
So into the semis against an undefeated Truro outfit. The intensity stepped up a notch and again the forwards dominated.
Hamish Harris rucked and tackled like a demon, supported by George Shirley. The quick ball allowed the backs to work their magic with Archie Gilroy and Will Rogers both weaving through.
Fatigue was starting to tell and it was end to end action. Edward Epps kicked with aplomb and in the closing seconds Archie Bryan sniped down the blind side to send the supporters wild.
This was a fantastic team performance with high quality play throughout the squad.
The team's commitment, technical ability and heart are a credit to both Ivybridge and Devon rugby in the region's blue ribband event. Player Harry Towle insisted he could not be prouder of his side's achievement.
He said: 'It feels great – it was a tough final,' said the 11-year-old. 'In those last few minutes I was thinking 'help us!' but we got that winning try.
'It's going to be great to go to Twickenham.
'It's actually our second time – last year it was awesome, we got to see all the players and we met Lewis Moody.
'Hopefully Henry Slade and the Exeter Chiefs are at the final so we can meet them in May.'
And Towle and co were joined by the club's under 11s side, who won three of their group matches but were unable to make it to the day's final.
However, under-11s skipper Drew Bowden insists he was far from disappointed with the efforts of his side.
'Tournaments like this definitely help you to improve as a player because you are playing against the best sides in Devon and you can learn from them,' he said.
'I love rugby, it's a great sport even if sometimes you can get your face trampled on.
'These kinds of events really help us to develop and we have all played well and had a great day.'
Land Rover supports grassroots rugby and provides the opportunity for over 7,000 youngsters to take part in the Land Rover Premier­ship Rugby Cup each season.
Keep up to date with the latest Land Rover rugby activity by following @LandRover
Kings travelled to Tavistock for their first game in the Fisher­man's Cup and got off to the worst possible start when Tavi scored a try in the first minute.
After a long period spent in the Tavi half, Kings finally scored when George Watson touched down in the corner.
Tavi scored again as Kings were slow to react in defence, but two quick tries for Kings by Alistair Or­chard and Matt Adams, on debut, put them in the lead for the first time in the match.
A third Tavi try on the stroke of half-time put them back in front as the home side led 19-17 at the break.
The second half be­longed to Kingsbridge, with Watson, Orchard, Josh Morgan and Chris­topher Stacey all scoring before Tavi scored a couple of minutes from time.
Seven tries were scored but a lot of hard work in defence and some great tackling, especially from Dan, Robbie and Harry, helped towards a very hard-fought victory.
The team was, Will Haddy, Oscar Wilson, Ben Jarvis, Dan Schenck, Christopher Stacey, Robin Lus­combe, Harry Fox, Ben Baldry, Max Holling­worth, Matt Hawkins, Matt Adams, Alistair Orchard, josh Morgan, George Watson and Olly Pound.
KM U16s got back to winning ways with a scintillating performance of power, control, skill and sublime finishing.
Changing to a 4-2-3-1 formation, KM pressed their opponents strongly from the start and could have scored in­side the opening minutes, Bellamy firing just over from 20 yards.
The effervescent Wat­son, Platt, Catling and Bodman drove the team forward with some powerful and intelligent interplay, creating several chances.
Spurs came back into the game, but the brave 'keeping of Dyos and watchful, organised defending of Mock­ridge, Tunbridge and Lee kept them at arms' length.
After 30 minutes, Watson and Bellamy exchanged passes and the cross was headed in by Bullen. KM controlled the rest of the half, with Fountain showing great touch and composure to create further chances.
KM began the second period fired up, Watson smashing in his first after some neat skill to dance around three challenges.
Soon after, Catling won the ball superbly, advanced and crossed.
From the resulting clearance, Watson crossed hard and low to force an own goal. Fountain then began to exert his influence with passing of great control and vision. First releasing Bellamy then Bullen, both finished with supreme confidence.
KM relaxed a little and failed to close down sufficiently, allowing Spurs to get a couple of goals back, but then turned the screw.
Fountain again took control in midfield, combining with Bella­my and Durrant to release Bullen, who rounded the 'keeper to complete his hat-trick in style.
The ability of the team to win the ball back quickly, Platt and Westlake particularly influential, was key to Fountain's success.
Spurs continued to attack but Lee, anticipating a through ball, hit a laser 50-yard pass for Bellamy to score at the second attempt.
For his calm, composed control and intelligent passing, Ollie Fountain was a de­served man of the match.
Many thanks to team sponsors Mobilemec and Robin Lee Deco­rators.
Kings opened their season with the Land Rover Cup, which this year was held at Exeter Saracens' pitches.
With some new squad members and the long summer lay-off, Kingsbridge opened rather tentatively against a well-drilled Stonehouse Sharks team.
With much of the match played in the Kingsbridge half, a superb clearance by Ted Slade resulted in some Kingsbridge pressure and a well-taken try by Flynn Bewley.
As Stonehouse ramped up the pressure, some mistakes at the breakdown led to Kingsbridge being pe­nalised and ultimately an equalising try was conceded.
Despite some great running by new player Ben, Kingsbridge could not find the breakthrough and the match finished a try apiece. With tournament nerves settled Kings­bridge then faced Brix­ham. Tries by Charlie Chandler, Ben, Alex, Wilf, Ted, Charlie Cunningham, Flynn Bewley, Bertie and Ruari led to a convincing 45-0 score.
Kingsbridge next faced Topsham.
Despite some early pressure from the op­position, some powerful running from Ted Slade led to a try.
The second half saw some great running play by Kingsbridge, and a well-taken try by Bertie settled the nerves.
With Topsham running in a try late on, only the fierce tackling of Sol, Ted, Alex, and Henry, with stout de­fence from all of the team, kept Topsham out with a resultant Kings' victory.
Taunton were the next opposition and knowing victory would secure Kings progression to the semi-finals by topping the group, a fired-up Kings took the lead with a try from Charlie Cunningham.
A well-worked try with great handling by Wilf and Ted allowed a 10-point lead at half time. Some great defensive work by Moss, playing outstandingly at full-back, led to a clearance and try by Charlie Chandler.
The match, however, saw a serious injury to the team talisman Ted, who was then unavailable for the semi-final.
The semi-final saw a tired Kingsbridge team face Wellington. This match was lost 5-0 despite some great Kings attacking play, with the U12s just running out of time to level the match. This was a superb start to the season, with great team camarad­erie, showing all members of the team, old and new, working hard for the greater good of the team.
With the cobwebs blown away, the team look well prepared for another successful season.
After a disappointing performance losing 2-1 away to Kingskerswell last week, KM looked far more positive against a well-matched Bovey side.
The visitors came close, bringing a fine save from Oscar, while at the other end Richie broke the deadlock when he powered through and tucked it home.
Strong defending from Molly, Lewis and Dan (player of the match) and outstanding goalkeeping from Os­car kept Bovey at bay.
Richie again dispatched a long kick with consummate ease. KM were in the ascendancy with Louis, Fraser and Tom M working tirelessly in midfield to keep control of the game.
Then Tom H scored the pick of the goals, shooting on the turn from the edge of the penalty area.
In the KM goal Oscar couldn't quite hold a strong shot and the half ended 3-1.
With Oliver at right-back, Sam in midfield and Luke up front, KM continued to create. Tom M's shot skidded under the Bovey 'keeper before the teams traded goals, with Tom H shooting underneath the unlucky Bovey 'keeper for his second and KM's fifth.
A fine Bovey shot glanced off the underside of the bar then Tom H out-paced the defence for his hat-trick. A Bovey strike from the edge of the area gave Oscar no chance, but not before Dan had struck the pass of the game clearing the ball from defence.
Despite Richie coming agonisingly close twice in the last five minutes, he couldn't quite complete his hat-trick.
Comments
To leave a comment you need to create an account. |
All comments 0