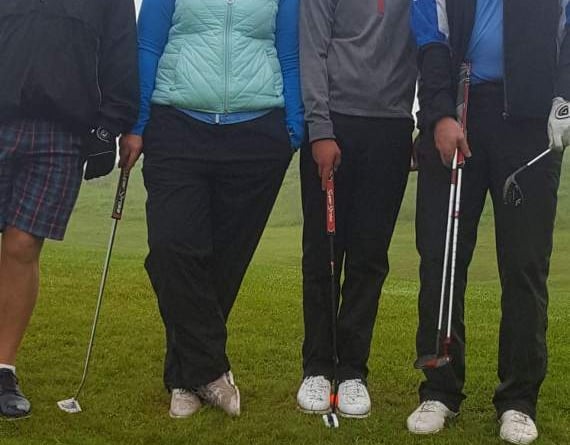 Club captain Kevin Mathews, Rhiannon Thomas, Sam Knight and club professional Rob Glazier
()
Subscribe newsletter
Subscribe to our email and get updates right in your inbox.
Dartmouth Golf Club men's section
He's usually up with the lark and teeing of at 7am, but a 10am start saw Steve Fishburn burn the course up writes John Garner.
The course is now as benign as it gets but you still have to play well and boy did Steve do that.
Playing off a handicap off 17, he scored 24 points on the front nine, 18 on the back and 42 overall, winning the circus by a country mile. Rob Isaacs Berry, Joe Nicholls and Bob Wotton shared the back with him but well played Steve, next time out in the circus you will be playing off 14.
I was away last weekend at Wentworth, watching McIlroy missing putt after putt but at Dartmouth the Yamaha Open was being played. 92 players took part from far and wide so its always nice to see local club players win.
Playing off a handicap of four, Chris Eddowes and his partner Paul Harris won the competition with a very good round, scoring 50 points in a better ball format. Second were local club members Graham Burton and George Reeve with 47, third, also home birds, Gary Bonser and club captain Kevin Mathews 46, fourth A Vickery and S Bristow 46 and fifth H Finch and J Palmer 45.
Another sunny day greeted the players for the midweek circus on May 30 and this time it was the competition secretary Brian Mush­en's turn to suffer from bad luck and bad bounces, but because he is calmness personified he didn't let it get to him as he carded a miserable 12 points on the front nine.
His resolve: ok, that's the front nine over, he thought to himself, let's and treat the back nine as a different game.
He did that with great success, turning his game around and scoring 20 points, well recoverd Brian, there are many of us out there that wish we could do that.
Bomber Brown played well on the front and was going well on the back until he duffed his second shot on the 16th; being slightly more volatile than Brian, the grinding of teeth and spitting of nails started as he cussed himself for his inability to keep his game together.
It was, however, only a temporary blip as he soon recovered his composure to finish with aplomb.
He birdied the 17th and parred the 18th to produce a seven-point finish which saw him leader in the clubhouse with 39 points.
It stayed like that until the last group walked in and, isn't it always the way, the last one to hand his card in was none other than (Sombrero) Steve Atkins.
Yep, he's gone and done it again, 21 on the back, 20 points on the front, shared with Bomber Brown, and 41 points overall to win the circus. One has to say, albeit with clenched teeth, well played Steve, but that Sombrero is getting bigger!
To complete the day and make his otherwise uneventful visit, Andy Birss had the only two.
The mixed monthly stableford played on Saturday attracted 22 players to the course and all enjoyed another perfect day for golf.
There was some good golf played too, particularly from Gary Bonser, who scored 41 points playing off eight to win the competition and earn himself a cut in handicap to seven.
Simon (Sid) Davis played well too. Sid is a very methodical player and takes his musical training on to the course rehearsing the same moves for every shot, creating repetition as you are supposed to and this week it worked well for him as he came second with 38.
Last week's winner Ray Coles didn't play quite as well as he previously did but well enough to score 37 points earning him a third place.
Sam Knight played well to score 37 points off 11 and came fourth, and in fifth place, well what can you say, he used to get so nervous on the tee he would hum to himself to calm him down, but practice and application brings its reward and after months and months of trying Dave Scanlon comes fifth with 37 points, get back to that simulator Dave it does work!
Finally, congratulations must go to the club captain Kevin Matthews and his merry band of stalwart supporters Sam Knight, Rhiannon and Rob Glazier.
They started at 5am, walked Stover Golf course, buggied Dainton, walked Wrangaton and buggied Dartmouth to play four courses in a day.
Blisters and bruises were no hardship to bear as they raised more than £1,000 pounds for the captain's charities; hats off to you all, well done.
Comments
To leave a comment you need to create an account. |
All comments 0