Juniors do their bit for Devon as seniors enjoy busy week
Friday 1st June 2018 6:53 am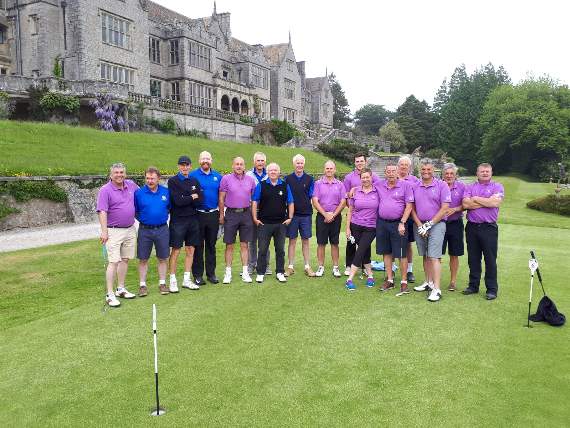 Thurlestone seniors, in blue, had a good win 3-2 at Bovey Castle
Subscribe newsletter
Subscribe to our email and get updates right in your inbox.
Some of the Thurlestone juniors were in action at the weekend, this time representing Devon County in the U16 and U14 teams in the Ben Enoch Trophy and Jack Roberts League writes Liz Line.
Finn Whelan was part of the U16 team who managed a 71/2 to 41/2 victory over 36 holes on a gloriously sunny day at Holsworthy Golf Club.
Alfie Messias, Toby White and Noah Mulligan all played in the U14 team, who also won 71/2 to 41/2 matches against Cornwall.
In the singles, Alfie Messias played well but sadly lost on the 18th one down, Noah Mulligan was two down with two to play but got a half and Toby White won five and four. Special note should be given to Toby, who managed to convincingly win both his matches on the day. Well done to all players involved, who were a credit to Thurlestone and Devon.
An easy success at home a couple of weeks previously can count for little when the return fixture is played, as the seniors found when they visited Torquay. Local knowledge, and an understandable desire for revenge made the match a much-closer affair, ending in a 3-3 draw. This still gave Thurle­stone an overall win by 7½ to 4½ as they won when playing Torquay at home.
Successful pairs were Bill Campbell and Chris Holmes, one up; plus Paul Cassar and John Davies, seven and five, with Paul also winning the nearest the pin contest.
Halves were secured by Derek Harwood and Val Harder, followed by Peter Jones and Peter Barnwell. Paul Dunne and Ron Ban­croft lost a close-fought game two and one, while Patrick Robinson and Mike Morgan went down five and four.
Playing their second match in five days, Thurle­stone seniors scored what captain for the day Patrick Robinson described as "a cracking win" against St Mellion, with a score of 4½ to 1½ boding well for the return fixture in July.
Visiting players did have their moments, however, with Graham Niven eagling the 18th, although it was too late to prevent club captain Harry Cattell and Mike Allen winning the game 2-1.
Other successful home pairs were Patrick Robinson and Hywel Jones, 3-2; John Davie and Malcolm Toone, 7-6; plus Paul Cassar and Val Harder one up. Graeme Fairley and Chris Holmes scored a half while Bill Campbell and Mac McCoy lost.
Nearest the pin prizes went to Graeme Fairley and visitor Marcus Connell.
The ladies had wonderful weather for the Patey and Steer trophy on Wednes­day. Some 19 pairs played a four ball better ball, so they were only allowed 90 per cent of their handicap. The outright winners were Liz Hay and Liz Sharman with 42 points from Liz Line and Diane Baker with 39, on countback from third Heather Spencer and Wendy Laud, and fourth Sue Curry and Thai Wharton, also 39. The only two of the day was scored by Sue Curry on the 13th hole.
The four ball open on Saturday had a good turnout in some lovely weather. The winners were Dave Purnell (7) and Matt Purnell (8) with 42 points, from Anthony Zee (18) and Andy Burton (6), also with 42 points.
The seniors played their fifth Dartmoor League match of the season away at beautiful Bovey Castle and won 3-2 on Satur­day. Dean Lowden and Stew­art Barnes led the way with a solid 3/2 victory. In match two Alistair and Mark Drew won on the 18th.
Bovey came back strongly, winning matches three and four on the 18th green, and that meant that Ken Riley, Tony Adams, Graeme Fairley and Alec Esplin all lost. So with the score 2-2 it was all down the last match. Good news for Thurle­stone as Craig Blount and Connor Eva delivered, winning 3/2.
Comments
To leave a comment you need to create an account. |
All comments 0