Captain's day proves a hit with the players
Thursday 14th June 2018 1:34 pm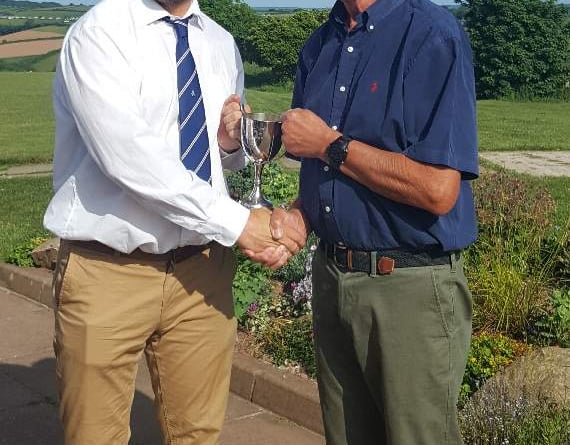 Club captain Liam Kimber, left, presents the trophy to Mick Gates
()
Subscribe newsletter
Subscribe to our email and get updates right in your inbox.
Club captain's day took place on Saturday, June 2, and 66 players took part writes Marlene Johnson.
Liam Kimber, the captain, advised there was a bit of a weather scare, with the course having to be closed early in the day, but thankfully the mist quickly cleared and a glorious day followed.
The club captain's day is one of the most important in the club diary.
It is also a most enjoyable day. There are a myriad of prizes available to suit players of all abilities.
This year the winner of the best seniors prize, with a good net 69, was Rob Luckens (18), the vice captain. Rob recorded a two on the 15th hole, and both Chris Jones and Neil Tucker recorded a two, on the 17th and third holes respectively.
The most coveted prize, however, is the Captain's Trophy, for the player with the best medal score.
There is a maximum handicap of 24 for this competition and this year the trophy went to Mick Gates (14) with an excellent net 68. This score meant Mick had his handicap cut to 13.
There was a tie for second place, with both Stephen Smith (12) and Rob Luckens (18) just one shot behind with net 69s. Rob also had his handicap cut by one shot to 17.
Club captain Liam was pleased to be presenting the trophy to Mick, who was himself the club captain in 2015. Mick said he was thrilled to have won a trophy again after years in the wilderness. He gave credit to the club's young assistant pro, Adam Keates, who set him in the right direction with a couple of lessons.
On Sunday, June 3, again in excellent golfing conditions, the palairet team recorded another great result, beating the much-fancied and strong Sid­mouth team 3-2.
The match took place at Exeter Golf and Country Club, with team captain Barry Milner leading from the side lines.
Yet again, and in true Bigbury fashion, it all came down to the last game, where Dave Wain and Peter Cooper secured the win with a par on the 19th hole.
Next up is the Honiton team, with the match to be played at Stover Golf Club on July 1. Only two more matches and Bigbury will reach the finals of this prestigious Devon competition.
The team captain is not permitted to play in this palairet competition. Club captain Liam Kimber says it is a bit nerve-wracking watching, especially when there is a game halved on the 19th hole for the win. But, it was a great result for our Bigbury players and rounded off a most memorable weekend for him as their captain.
The Seniors Alan Hambly Trophy was played on Wednesday, June 6, again in good golfing conditions. The course was playing well, as shown by the scores for the event. The format for this trophy is playing in pairs.
The winners with a very excellent score of 64.2 were Joe Bastone and Harry Kerswell (a good golfing start for Harry as the club's new president). In second place were William Barons and Mike Heath with 65.6 and in third place with 66.2 were Richard Hendey and Hugh Shepley.
Of the 20 pairs competing for this trophy, 10 recorded scores lower than 70, reflecting the way Bigbury Golf Course is playing.
There were two pairs with twos, Roger Hurrell and Eddie Inch on the third; Richard Hendey and Hugh Shepley on the 15th.
The ladies' May extra stableford took place on Thursday, May 31, in pleasant conditions, with the course standard scratch standing at 73.
Seventeen ladies took part and in first place with 34 points was Sarah West, handicap 29.
Sarah won on countback, with Sally Watts, handicap 33, recording the same 34 points.
On Friday, June 8, the Devon League Team made the 120 mile trip to Axe Cliff Golf Club, Seaton. The match was played in great spirit and captain Jane Rickman said the team had a very enjoyable day.
With Axe Cliff making the most of their home advantage, the result was Axe Cliff four wins, Bigbury two. The Bigbury wins were by the two Jane's, Rickman and Wain. The Bigbury reserve, Ros Hanley also won her game.
On Saturday, June 9, the ladies' county stableford 5 was played. Although sunny and warm, the wind was swirling making playing conditions difficult.
Some 27 ladies took part and the winner with 35 points was Sally Watts, handicap 33. In close second with 34 points was Rosemary Sharps, also with a handicap of 33, and third was Hilary Newcombe, handicap 28, with 33 points.
The Bigbury juniors played their Devon County Golf Union Basil Steer knock out event on Friday, June 8, in pleasant conditions.
Their competitors were from Royal North Devon and the match took place at Yelverton Golf Club. Jess Leach, our junior team captain with a handicap of 16, was first out and secured a very good win against her three handicap competitor.
Graham Smith was second out, and sadly lost his game on the 15th. This left George Inch in a deciding game, and although he battled well, he lost on the 17th.
Bigbury are proud of the great effort made by such a young and inexperienced squad.
Comments
To leave a comment you need to create an account. |
All comments 0