Obituary: Alice Mason - actress, housekeeper, pianist, teacher
Tuesday 20th February 2018 10:00 am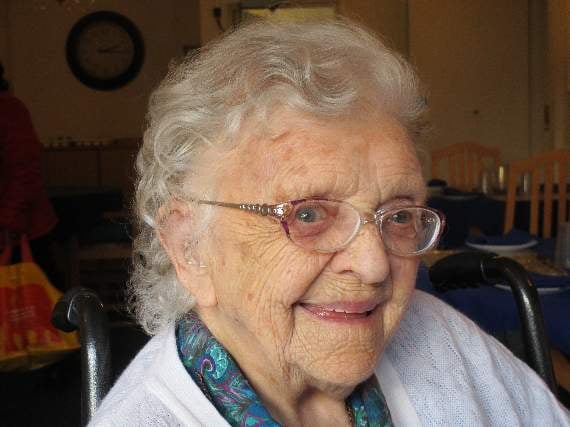 Alice Mason on her 100th birthday
()
Subscribe newsletter
Subscribe to our email and get updates right in your inbox.
Actress, housekeeper, pianist, teacher – just some of the things Alice Mason crammed into her 102 years.
All Hallows Church, Ringmore, was full for her Thanksgiving Service, which took place on Saturday, February 17.
Alice was born in Ringmore on November 12, 1915, and lived in the village until the age of 93, when she went to live with her daughter Norah in Kent.
From the age of 14, Alice was involved in the WI, playing "Jerusalem" at their meetings, taking part in the drama group, and serving as President from 1964 to 1968. Pam Brunskill, the WI's longest serving member, and herself a past President, gave an excellent tribute to a member who will never be forgotten.
Phill Errett, churchwarden at All Hallows, outlined Alice's involvement with the Church. At the age of 19, Alice joined the church choir, and in 1942 became the organist, continuing to play for over 60 years. She was also church treasurer for over 40 years.
It was always a pleasure to meet Alice, whether villager or visitor; she gave everyone a lovely smile and warm greeting. When Sir Douglas and Lady Hall moved into Barnford, and wanted help in the house, Alice was packed off by her mother with instructions to put on a clean apron and mind her manners!
Sir Douglas and Lady Hall's daughter Marion remembers Alice as a most courteous and friendly person, always interested in everyone, and she quickly became a friend to the whole family. She played the organ at Marion's wedding and, 34 years later, at Marion's daughter's wedding.
Alice's life was not an easy one. She was widowed when still in her thirties and with a seven-year old daughter to bring up; later she was carer to her somewhat demanding mother. But far from being bitter, it brought out the best in Alice. She asked for little, but gave much; for example, many of her music lessons were free.
Michael Tagent conducted the Thanksgiving Service, and the organ was played by John Tagent, who spent many happy times with Alice at the Ringmore organ. During the service, Mike Wynne-Powell played a recording of Alice on the Ringmore organ and also of one of Alice's famous monologues – her visit to the Albert Hall, given in her wonderful Devon accent.
After the service, WI members laid on a typical afternoon tea in Ringmore WI Hall, with a long table groaning with delicious scones and cakes. One can just imagine Alice walking in and saying "Oh, my!"
Comments
To leave a comment you need to create an account. |
All comments 0