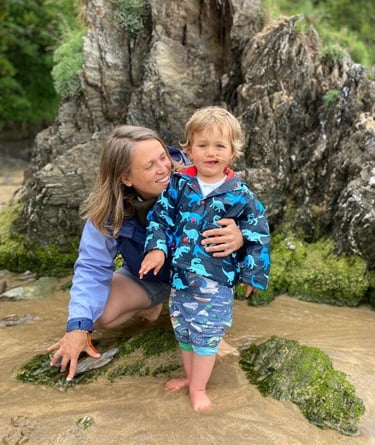 Subscribe newsletter
Subscribe to our email and get updates right in your inbox.
Hannah Adams is taking on the gruelling Two Moors Way walking 117 miles over 5 days. Starting in Wembury on the South coast of Dartmoor she will cross mid Devon and finish in Lynmouth on the North coast of Exmoor five days later.
Hannah, from Tiverton, is doing this to raise much needed funds for research into brain tumours. Her son, Barney, was diagnosed with an ependymoma brain tumour as the first lockdown started in 2020.
Two weeks before his diagnosis the family noticed that Barney was struggling with his balance. They took him into hospital where after a couple of days of tests an MRI was conducted revealing a 9cm tumour in his brain. The devastating diagnosis led to Barney undergoing two major brain surgeries in April and May to remove the tumour. Unfortunately complete removal at that time was not possible. He then went through 9 weeks of gruelling chemotherapy and in August of that year a paediatric brain surgeon, Conor Mallucci, at Alder Hey hospital in Liverpool was able to successfully remove all of Barney's tumour. Hannah says: "Conor Mallucci gave our family the greatest gift, to us he is a hero". The family then travelled to Essen in Germany where Barney underwent a 6 week course of state of the art radiotherapy called proton beam therapy.
Barney is now three years old and still overcoming setbacks from the cancer and harsh treatment. "A hugely proud moment for us has been watching Barney learn to walk independently. It's a real delight to suddenly have Barney appear at my side to tell me something that he's seen or done. It's the small things which all of a sudden become amazing"
Hannah says about the event: "I will be joined en route by family as well as friends, old and new. In the short time we have been in Devon we have met some fantastic people and I feel touched by the generosity of the friends we have made, giving up their time and effort to support us. A group of local mums have walked beside me on many an evening training walk through the spring and summer, sharing stories and company.
"Many more will join or support me through the event. This will be much needed as, like a lot of people when approaching the start of a feat of endurance, I feel my training has fallen short. This has been in part down to welcoming a little brother, Dennis, to our two older children Scarlett and Barney in February of this year. Thanks to my roaming support car in the shape of my husband, Tom, some long training walks have been possible as he has spent many weekends driving Dennis to meet me for well-timed feeds.
"The event itself will offer a lot of time for reflection, brain tumours are an area of cancer research which is sadly very underfunded and I am so pleased to be able to play a small part in helping to support a cause which is in such desperate need. I'm looking forward to seeing the beauty of Devon, however my navigation skills, or lack thereof, pose a worry. Hopefully my fellow walkers will be able to help keep us heading due North. I am starting the event quite sleep deprived from life with a newborn, although perhaps this will be a far-fetched way to spend a few nights catching up on some sleep.
"Barney is a really unique little boy, he's charming and has a great sense of humour for a three year old. He is my greatest inspiration and if I'm struggling I know thinking of everything he has been through will be motivation enough to keep plodding on."
Follow Hannah's fundraising: https://www.justgiving.com/fundraising/hannah-tunstall
The Brain Tumour Charity is the UK's largest dedicated brain tumour charity, committed to fighting brain tumours on all fronts.
They fund pioneering research to increase survival and improve treatment options as well as raising awareness of the symptoms and effects of brain tumours to bring about earlier diagnosis.
The Charity also provides support for everyone affected so that they can live as full a life as possible, with the best quality of life. Anyone affected by a brain tumour can get in touch for support and information on 0808 800 0004 or by emailing [email protected]
Comments
To leave a comment you need to create an account. |
All comments 0