Mayor "furious" at town anti-vax rally plan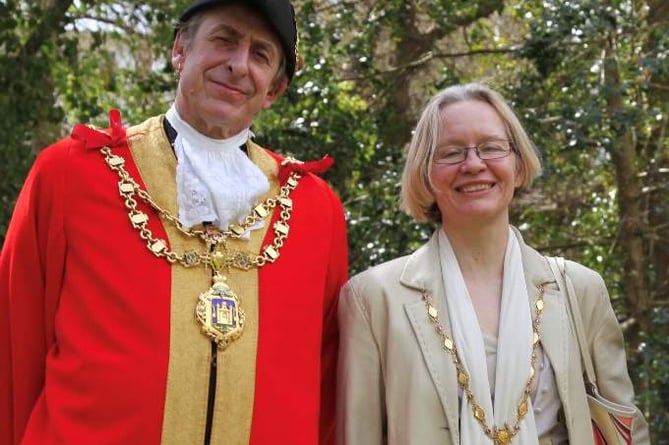 Totnes Mayor Ben Piper and Cllr Emily Price
()
Subscribe newsletter
Subscribe to our email and get updates right in your inbox.
A group of anti-vaxers are planning a rally in Totnes on Saturday, sharpening fears the town has been targeted by "conspiracy theorists".
Posters around the town advertise the so called 'freedom march' from the Rotherfold, through the busy town centre and down to Longmarsh.
The public park, on the bank of the River Dart, will be the venue for a 'truth festival,' say the posters, and will headline musician and author Gareth Icke and other speakers who were originally lined up to take part in the banned 'truth conference' at Totnes Civic Hall – cancelled by the town council and the Paige Adams Trust following complaints from residents.
A New World Alliance spokesperson – the group behind the banned conference – denies the group organised the march, describing it as an "organic" event put together by "different people".
But last week, Dr Stephen Hopwood, who heads the New World Alliance, vowed to organise a march through the town as a "demonstration against our local Totnes Town Council and their open suppression of free speech".
South Hams Council, which owns Longmarsh, says no group has applied for permission to hold an event on the site this Saturday and that it is liaising with the police over its concerns about the publicised rally.
As well as speakers, the rally is touted to include megaphone poetry rants, pop-up speakers corner, drummers, marching jazz band, street theatre, mobile sound system and fancy dress, say the posters.
Town Mayor, Cllr Ben Piper, insisted: "Them marching through the streets of Totnes on a market day is not desirable, any way you look at it."
He continued: "There are very clear historic parallels to the utilisation of people's naivety, gullibility and sentimentality that are being exploited here.
Cllr Piper stated: "Totnes is a place where people come seeking truths and insights, and to have them hijacked by a cynical agenda – it makes me furious.
"I take a very strong view about the people who are manipulating the genuine seekers after truth, and actually a lot of vulnerable people who are seeking answers."
Totnes district councillor, John Birch, who alerted South Hams Council officers to the rally, said: "It's a worry because of this organisation.
"I support the position taken by Totnes Town Council.
'I share their concerns and the reasons why they don't want to see this event take place."
Town councillor Emily Price accused the group of a "systematic, deliberate campaign" to amass support from the town's "new age community."
She said: "What has happened, almost by stealth, is they have been brought on board using things that are quite innocuous to an extent – vaccine scepticism for example – and have been taken further and further down the rabbit hole where they think these people are speaking for them.
"Some decent, well meaning people have fallen into this trap.
"I'm not damning everyone who bought a ticket for the conference, but they have been very cleverly manipulated, some of them."
A district council spokesperson confirmed: "We haven't had any application to use our land in connection with this event.
"We are in liaison with partners, including the police, regarding our concerns about the event."
Comments
To leave a comment you need to create an account. |
All comments 0