Going potty for clay quarries open day
Friday 23rd October 2015 7:49 am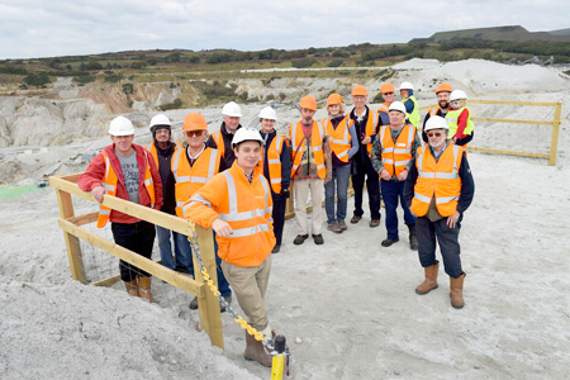 Sibelco project manager James Tupman, front, leads a china clay quarry tour
()
Subscribe newsletter
Subscribe to our email and get updates right in your inbox.
MORE than 600 people were given the opportunity to explore Dartmoor's china clay quarries last weekend.
On Saturday, guided tours were given of the Lee Moor and Corn­wood quarries, sites normally well out of bounds to the public.
The open day was staged by three firms operating in the area – Sibelco, Imerys and Aggregate Industries – and included free family activities in and around Lee Moor public hall.
Staff explained how ages-old granite is broken down into kaolin by weathering and other natural processes, then refined into hundreds of thousands of tonnes of clay annually for the ceramics, paper and other industries.
Secondary products, such as aggregates for roadbuilding and construction, are also produced in vast quantities, the combined operations providing work directly and indirectly for hundreds of people.
In addition, with up to 90 per cent of some products being exported, the Westcountry industry was shown to make a significant contribution to the nation's finances.
John Vine, Imerys' UK mineral planning manager, said: 'The industry has been active in the Westcountry for 250 years and exports of china clay have had more value than all the tin and copper mining, so a huge boost for the economy both locally and nationally.
'These are minerals of international importance and this remains a vital industry, one that's here to stay.' Conservation groups, charities and two schools took part in the event, raising cash as well as their profiles, while giant quarry vehicles and a bulldozer simulator were made available for the young and not so young to get to grips with.
The industry's heritage was celebrated and its future given consideration with attendances by universities keen to offer advice on the best courses for those thinking about careers in quarrying. Jessica Dobson, 17, from Bovey Tracey was among those warming to the idea.
'I'm keen on doing a geology degree and mining would combine my interests of the environment and sustainability,' she said.
'Today has been really interesting and very useful.'
Nick Horsley, Sibelco's environmental planning manager, was delighted at the prospect of new blood coming into the industry.
'I think this is a fabulous opportunity to get young people interested in our profession and the significant opportunities mining offers them across the world,' he said.
Restoration techniques were demonstrated as was the industry's ability to create habitats for endangered species.
Charley Miller and Sonia Nadis, from the Devon Wildlife Trust, were present to explain how the former Meeth Quarry in north Devon, now a nature reserve, had become a wildlife haven.
'It now has one of the top three populations of wood white butterflies anywhere in England,' said Ms Miller.
Renowned potter Jeremy Leach invited guests to try their hands at throwing pieces and youngsters were given the chance to have their faces painted, climb a tower, take pony rides and win a remote control toy by guessing the number of clay 'noodles' in a jar.
As the last of the guests left, on what had been the first open day in the quarries for six years, Mr Horsley said: 'I think this was one of the most enjoyable yet. The hall provided a great venue and the 40 full minibus tours were a huge success. The comments we have received are very positive and people are asking if we can do it again next year. We'll see!'
Comments
To leave a comment you need to create an account. |
All comments 0