Giant guitar maker declares war on German museum
Wednesday 13th December 2017 9:17 am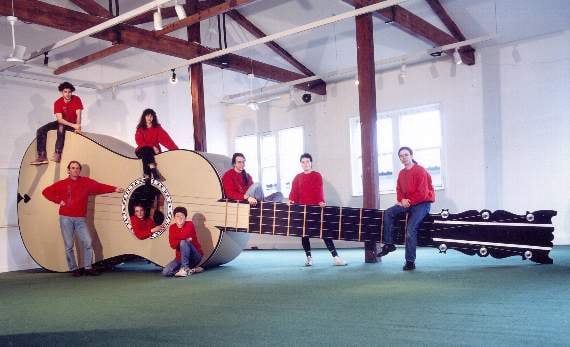 The giant guitar at the Exploratory in Bristol in the 1990s
Subscribe newsletter
Subscribe to our email and get updates right in your inbox.
A furious South Hams musician has declared war on the Germans he claims have hijacked his giant three-quarters of a tonne guitar.
In 1992, Tony Dale was part of a six-strong team which built the huge ,working 28ft-long guitar as part of an educational exhibit demonstrating how musical instruments transmit vibrations.
Now, he claims, a German museum is claiming it as its own by declaring it made it.
Tony, from Totnes, has twice emailed the Deutsches Museum in Munich pointing out the error but has not received a reply.
Now he is aiming to win back the credit for the guitar which even has a place in the Guinness Book of Records.
"How dare they claim that they made it. A lot of blood sweat and tears went into that guitar. We just want recognition. What they have done is take our names off it and put them in the bin," he said.
But the museum says the whole thing is just a mistake over translation – and has even invited Mr Dale to write an article about the guitar as a museum blog.
The 8ft high and 3ft wide guitar, which weighs 0.78 of a metric tonne, was built by the team of six, involving instruments makers, musicians, a piano restorer, an architectural model maker and educationalist, for a charity called Stradivarium. It is a massive copy of an Antonio Stradivarius guitar which is on display in the Ashmolean Museum in Oxford. It took two years to complete and ended up in the Exploratory, a science museum Bristol which closed in 1999.
During its time there, it appeared on Blue Peter; was played for a BBC?Radio 3 broadcast; was visited by the Sky at Night presenter Patrick Moore; and played by the US Country and Western great Chet Atkins.
Even John Major had a go at strumming it during a visit to Bristol while he was Prime Minister, said Tony.
But at the end of the last century the huge guitar ended up being sent to German where it went on display at the Deutsches Museum's Kinder Reich or Children's Kingdom where a shocked Tony, who is a well-known for playing musical slates in the Totnes's main street, found the museum claiming credit for making the giant musical instrument.
Tony, who was building a portfolio of his work in an effort to gain references for an honorary degree, claimed the museum was claiming credit for his work and that of the other five members of the guitar team – Christopher Challen, Lucy Coad, Jem Le Livre, Ian Blythe and Julian Thompson.
The Munich museum, said to be the largest science and technology museum in the world, with 1.5 million visitors a year, is publicising the massive guitar online with a picture and caption saying: "Did a giant leave a guitar behind in Kids' Kingdom?
"That would be a funny story. But in fact we built the big guitar for you so that you can crawl inside.
"You can feel the tones and vibrations by pressing your hands against the walls of the guitar. Count the strings. There are only five.
"That's because we copied a very old guitar when we built it. But remember: You are very welcome to climb inside the guitar, but please don't climb on top of it."
Tony, who was educational co-ordinator at the Stradivarium museum of music and sound in Bristol, when the guitar was constructed, said there had originally been a plaque inside the guitar with the names of the five Britons who made it," he said.
"I was looking for it in the internet and found it with the text beneath it claiming that the Deutsches Museum had made it. It has been painted red but clearly it is the same one. It is a Baroque guitar and I recognise the bridge."
He said he aimed to include it in his portfolio and added: "It helps me not at all that someone has nicked the credit for it and claimed it as their own."
A museum spokesman said: "I can understand if Mr Dale is a bit but angry – but it's basically a case of "lost in translation". The original German text on our website is: 'Die Gitarre wurde für Euch so groß gebaut. The meaning in English is: 'The guitar has been built for you so big ...'.
"The external translator changed this into 'We built the big guitar for you so big', obviously unaware of the fact that he changed the meaning.
"Of course we will change this wrong English version – my apologies to Mr Dale.
"If he likes, he can write a story for our museum blog – like 'the secret of the giant guitar' or something – and I will be happy to publish it."
Comments
To leave a comment you need to create an account. |
All comments 0