Fundraising complete for air ambulance night landing site
Monday 7th January 2019 11:38 am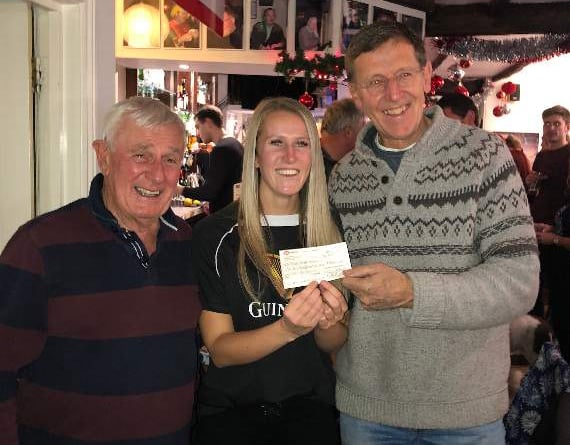 Johnny Moulsdale chair of the Parish of Dittisham Charity receiving a cheque for £500 from Peter Forde and draw organiser Toni Bastin from Dittisham United Football Club
()
Subscribe newsletter
Subscribe to our email and get updates right in your inbox.
A football club raised £500 for a parish charity group.
The money raised by the football club at the annual Christmas draw was donated to complete the fundraising needed for the Dittisham night landing lights.
Chair of the charity, Johnny Moulsdale said: "This generous donation will enable Devon Air Ambulance to install state of the art lighting on the Ham Playground which can be switched on remotely if the air ambulance is required to land in the village after dark.
"This will help our community enormously particularly during the long winter months."
The £500 donation from the football club draw was the final amount of fundraising needed to reach the £3,500 required to install the lighting for the air ambulance and maintain it for the future.
Football club president, Peter Forde said: "We were really pleased to be able to support this charity project as some of our members and their families have used the Devon Air Ambulance.
"As we all know extending the hours that the helicopter can operate will be of huge benefit to the whole community."
Other donations were received from the Dittisham WI, Dittisham Sailing Club and from many individuals in the parish, many of whom had had personal experience of the service.
Mr Moulsdale added: "The community has been working with Devon Air Ambulance for many months to identify a suitable site, obtain the necessary approvals and raise the funds.
"We now expect the lighting mast will go up on the Ham in mid January and the site will be operational by the end of January, 2019.
"The newly formed Parish of Dittisham Charity is making grants for projects in the parish with the next project being to provide defibrillators in the village.
"We have already received a generous pledge from Dittisham Regatta for one at the Ferry Boat Inn."
All further donations are welcome and to get in touch with the charity contact [email protected] or get in touch via the parish council website.
Comments
To leave a comment you need to create an account. |
All comments 0