Bill Oddie urges people to explore local woodlands this spring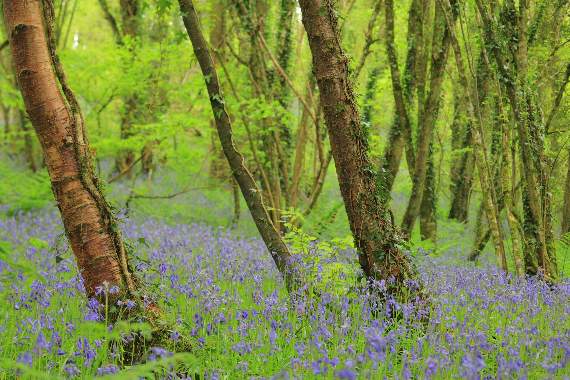 A Devon woodland with bluebells (Kevin New)
Subscribe newsletter
Subscribe to our email and get updates right in your inbox.
THE Devon Wildlife Trust is urging South Hams residents to visit Andrew's Wood near Modbury and Lady's Wood near South Brent to enjoy the emergence of spring.
Woodland in springtime is one of the great spectacles of nature, full of birdsong, wildflowers and the soft bright green of new leaves. The Wildlife Trusts believes that they are a spectacle not to be missed. It's why the charity is urging people to visit their local woodland in the coming weeks.
Steve Hussey from the Devon Wildlife Trust said: 'A walk through a woodland during spring offers opportunities aplenty to indulge your senses, and tune in to the wild, as the story of spring unfolds - from the arrival of migrant birds to the unrolling of bluebell carpets.
'Our message to people is to get out there now and enjoy this uplifting, free experience. Do not miss one of nature's most wonderful seasonal events.'
Bill Oddie OBE, the wildlife trusts' vice president, offers his advice on the best time to visit a woodland for the first time: 'Early spring, when the shapes of the branches are still clear but spangled with new buds. The birds are singing and you can see them, which isn't so easy once the trees are in full leaf. When the sun shines through those trees it can be just like the lights at a music concert. Even when raining, it's fabulous!'
April sees our woodlands spring to life. Listen for the great spotted woodpecker, and their smaller rare cousin the lesser spotted woodpecker, now drumming -beating out the rhythm of the season.
Watch the darting and twisting flights of pied and spotted flycatchers as they hunt for flying insects.
Under foot, a carpet of colour is quietly and steadily unfolding. Over the space of a few weeks in spring, from mid-April onwards, bluebells set our woodlands ablaze with their bright blue flowers.
The UK is home to more than half the world's population of bluebells, making them our unofficial national flower, and their presence is a sure sign of very old woodland.
The wildlife trusts care for hundreds of the finest bluebell woods, wonderful places to experience the sights, sounds and smells of spring.
To help people explore their local woodland this spring the wildlife trusts have produced a guide to discovering favourite woodland walks and great places to see bluebells, ancient and unusual trees and woodland butterflies. All are available at www.wildlifetrusts.org.
Bill Oddie concludes: 'How to get the best out of a wood? Take photos, all through the year, in different light and weather, both close up and wide.
'Notice shapes and textures. Look at a wood as a work of art, which it is!'
Comments
To leave a comment you need to create an account. |
All comments 0