A 'Tern-Fest' on Start Bay
Saturday 16th October 2021 5:00 am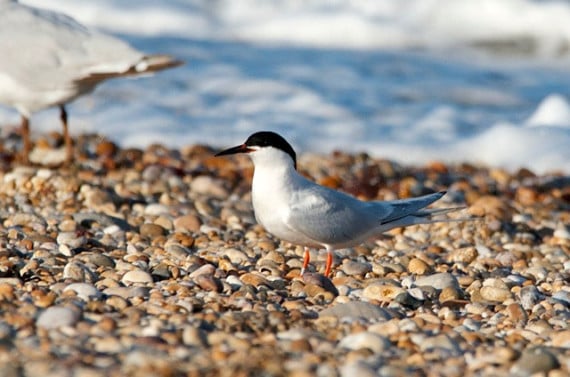 Subscribe newsletter
Subscribe to our email and get updates right in your inbox.
My final submission for September is based on Terns. The attached photo is of a Roseate Tern taken on Slapton beach by Michael Brooking and I would be grateful if you gave him due credit for it.
"During late July and Into autumn Terns and shorebirds are migrating from northern and temperate breeding grounds to southern climes. Sandwich Terns are a regular feature in Start Bay at this time often with youngsters in tow. However, on July 30y, Perry Sanders had a "Tern Fest" on the beach with five species lined up with the gulls including Sandwich, Common, Arctic, Little and Roseate Terns.
Arctic terns are some of the most long distant migratory species on the planet. Having bred in northern and temperate latitudes, they then head down into the southern Atlantic via the West African coast before heading north again via the South American coast. One ringed bird even made it to Australia. In Iceland, traditional breeding sites have been impacted by man's activities including roads built through the middle of their breeding colonies and today you can be waiting for a bus with hundreds of terns swooping around and dive-bombing you as they protect their nests and young. The other slightly odd experience we had when visiting Iceland and found ourselves parking in the vicinity of a tern colony was that of Snow Buntings feeding on the scraps left by humans when to us in southern U.K. they are seldom seen, and increasingly so as a result of global warming, as they escape harsh Icelandic winters.
Little Terns breed on beaches but have again been adversely affected by man's activities, particularly as leisure activity increased during the 1950/1960s. It is possible they nested on Slapton beach in the past and they continue to nest at Dawlish Warren but only because the rangers there surround the breeding area with fences to stop people and, invariably, their dogs from disturbing them. At Dungeness in Kent, I can remember being dive-bombed by Little Terns in the 1950s if we went too close to their nesting sites on the beach. Sadly, the "new" automatic lighthouse, necessary as Dungeness Point had shifted as a result of long-shore drift, was sited just where the Terns were nesting with the effect that Little Terns no longer breed there. There are similar stories from around our coast and Little Tern breeding numbers have severely declined. The American equivalent, Least Tern, has suffered similar human disturbance and wildlife rangers similarly erect protective fences around their remaining breeding sites.
Perhaps the rarest of the Terns on Slapton beach in July. Was the single Roseate Tern. There are few colonies in the British isles but this bird was ringed and because the ring was on the right leg most likely came from a colony at Rockbill in Ireland abd is likely to be the same bird that was seen at Dawlish Warren earlier in the month. Birds from the east coast colony at Coquet island off the Northumberland coast are ringed on their left leg.
One of the largest Roseate Tern colonies in the world is on Great Gull Island in Long Island Sound off the Connecticut coast in North-eastern US. Some 7-8,000 pairs breed alongside about 15,000 Common Terns and have been the subject of a long term study over 50 years funded by the Smithsonian Institute in Washington DC.
Similarly, Marsh waders regularly pass through in autumn including Greenshank and Green, Common, Wood and Curlew Sandpipers and the occasional Curlew and Whimbrel Whimbrel regularly pass through Slapton in spring heading north through Cheshire for the Flow country in Scotland where they breed."
Comments
To leave a comment you need to create an account. |
All comments 0