Piling on pressure to re-open our hospital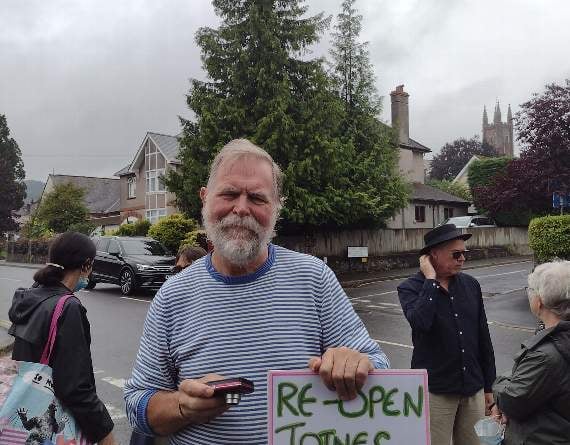 Totnes Town Councillor, David Matthews, at the Totnes minor injuries unit vigil
Subscribe newsletter
Subscribe to our email and get updates right in your inbox.
Campaigners who are calling for the reopening of Totnes minor injuries unit (MIU) held a demonstration at the town's hospital.
The unit, along with the Dawlish MIU, was closed in March 2020 due to staffing shortages and Covid-19, said Torbay and South Devon NHS Foundation Trust.
Despite a 1,000 strong signature calling for it to reopen, and indications from the Trust that it may reopen this month, the unit remains closed.
Protestor and town councillor, David Matthews, says this puts thousands of residents at risk.
The nearest MIU is at Newton Abbot, some eight miles away, and would cost £40 for a return taxi trip for those who do not drive, he said.
Cllr Matthews, who was joined by some 20 fellow protestors at the vigil, said: "The unit is still closed, despite previous indications from the Torbay And South Devon NHS Foundation Trust that it might re-open in June or July 2021.
"The closure of the MIU since March 2020 has seriously inconvenienced and put at risk many who, having incurred a minor injury such as a cut, scald, insect or animal bite or sprain and arriving at the MIU only to find it closed, are then obliged to go to a similar unit at Newton Abbot Hospital – often by taxi at a cost of over £20 each way, for treatment.
"This is especially serious for local residents, and for people at Dartmouth where the hospital is closed, who now have to find their way to Newton Abbot, possibly in pain and distress, for treatment – especially now as we are deterred from going to Torbay Hospital for attention to a minor injury.
"I understand the Newton Abbot unit now closes at 8pm, further reducing the opportunity and prospect of urgent attention.
"This is an absurd and unsustainable situation – the direct result of Government underfunding over the last decade, with an underlying agenda of privatisation of the NHS.
"Despite Covid and/or the excuse given that suitable staff are hard to find, there is no real justification for the withholding of such a vital facility for Totnes and surrounding area.
"The decade long underfunding and privatisation by stealth of the NHS is now having a real and deleterious effect upon the majority."
Cllr Matthews said he and other concerned residents will continue to hold weekly Saturday vigils from 11am to 12.15pm at Totnes hospital, calling for the reopening of its MIU.
A trust spokesperson said finding staff has been a "challenge" but it is "actively doing" everything possible to support the reopening of both the Totnes and Dawlish MIUs'.
"It remains our ambition to re-open them once we can safely do so," the spokesperson said. "We have been actively recruiting the advanced practitioners who are needed to staff the units, however, this continues to be a challenge.
"These advanced practitioner roles are so beneficial that they are now being used across wider healthcare services, thus creating a highly competitive market.
"We continue to work closely with our commissioners, GPs and all other healthcare providers to create the best possible urgent care response for our people.
"Unfortunately, we cannot confirm an exact reopening date for Totnes Minor Injuries Unit at this moment but we are actively doing all that is possible to support its reopening.
"We are hopeful that it will reopen in October 2021."