East Prawle to get community helipad thanks to HELP Appeal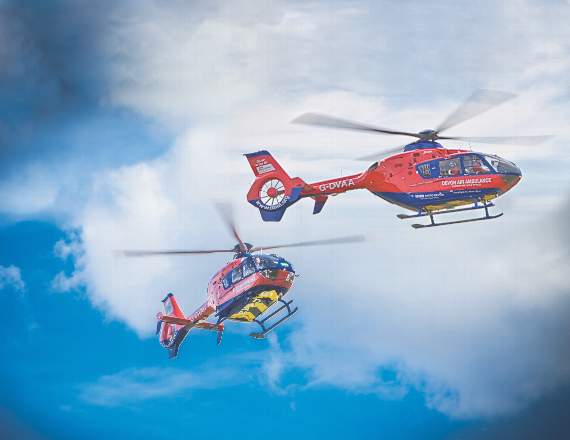 Subscribe newsletter
Subscribe to our email and get updates right in your inbox.
EAST Prawle will have a helipad for the Devon Air Ambulance to use, thanks to the HELP Appeal and local fundraising.
The HELP Appeal, which raises money for community helicopter landing sites, donated £5,600 towards the site in East Prawle, contributing to the £8,000 raised by the local community.
This donation means more of the money raised by the Prawle Fair, private donations and Chivelstone Parish Council can be used for community services such as local charities, community bus routes and events for the elderly.
Sean Jeffery, Chair of Chivelstone Parish Council, said: 'The helicopter night landing site is of great importance to the parish of Chivelstone, and will help locals and tourists alike receive urgent medical treatment, especially at night.
'The generous donation from the HELP Appeal has allowed us to reallocate funds raised back to the local community and charities.'
Community helipads development officer for Devon Air Ambulance, Toby Russell, who is working closely with the community at East Prawle, said: 'East Prawle, and indeed much of the South Hams, is an isolated part of our beautiful county therefore having community landing sites available to the service is essential.
'One of the first landing sites to go live was at nearby Kingsbridge RFC which has already been used at night. Just three days after we started flying into the night an elderly lady had a nasty fall and needed essential medical treatment quickly at the trauma centre at Derriford in Plymouth.
'We have received such an amazing response from the community of East Prawle and in particular would like to thank the landowners Roger and Vicky Tucker who are enabling DAA to land in their field and providing a valuable resource to the whole community.
'People don't stop getting ill just because it's dark and these landing sites mean that we are still able to get to the heart of the community and to anyone who should need us; be that a medical cause or a trauma related injury whether it's dark or light.'
There are currently 25 fully operational landing sites up and running, with over a 100 further night landing sites in development. Full information at: www.daat.org/landing-sites.
DAA have been awarded a £1million grant from Libor Banking Fund, which puts the charity in a position to offer grants to help towards cost of installing flood lighting.
Since 2009 the HELP Appeal has identified and helped to fund state of the art helipads or upgrade existing infrastructure at 14 MTCs and A&E hospitals across the UK.
The HELP Appeal works directly with each hospital to drive the project, providing substantial grants assistance throughout the project including feasibility studies right through to launch.
To learn more about the Helipad Appeal and to get involved visit: helpappeal.com
Comments
To leave a comment you need to create an account. |
All comments 0