A lynx 'the size of a small labrador' has escaped from Dartmoor Zoo near Sparkwell - police warn people not to approach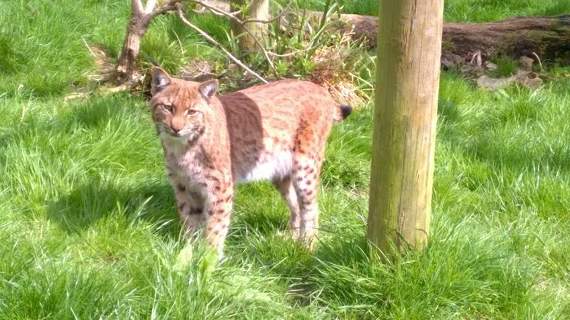 Flaviu the Carpathian lynx, who has gone missing from Dartmoor Zoo. Photo: Dartmoor Zoological Park.
()
Subscribe newsletter
Subscribe to our email and get updates right in your inbox.
UPDATE - Dartmoor Zoological Park has said it hopes to catch the lynx using humane traps. The zoo said: 'Thanks to all for the messages. We have humane traps which we will be laying out in a search area based on our knowledge of cat behaviour. 'These traps are of ample size for a lynx and will hopefully tempt him with various kinds of meat from specialist suppliers. The door closes behind him to trap him in there unharmed where he can be safely returned to the zoo.'AN escaped Carpathian lynx caused panic on Thursday morning as zoo staff and police scoured the countryside and children were warned to stay indoors.
The rare animal, the size of a small labrador was delivered to Dartmoor Zoo on Wednesday night, but when staff checked its enclosure on Thursday morning they discovered the male lynx had managed to tunnel its way to freedom.
Initial hopes that the runaway cat would be discovered inside the zoo's perimeter fence were dashed after a search by staff and police found no sign of the animal.
The hunt was widened to include the local area, and the National Police Air Service helicopter was deployed to help the search. Meanwhile, officers went door to door in nearby Sparkwell and surrounding areas to 'offer advice' in the event of any sightings of the animal, and rushed to All Saints Primary School and the local nursery to warn children to stay indoors.
All pupils from the primary school were on a field trip, but officers said they were working with staff at Little Orchard Montessori School to make sure youngsters were kept inside.
Dartmoor Zoo owner Benjamin Mee was delivering a lecture in the North East of England on Thursday morning, but stressed the animal posed no danger to humans. He said: 'This is a small Carpathian lynx, and it will totally be more afraid of people than we are of it, though of course it's impossible to guarantee that.
'Its house previously held two Siberian lynx, which are much bigger and stronger. This one is not much bigger than a domestic cat, so I expect we'll have a spate of sightings of it.'
Later on Thursday, a zoo spokesman assured reporters the lynx was 'nowhere near as big as a tiger or a lion'. He said: 'He's probably about the size of a small labrador. He is very likely to be very scared, very frightened, very anxious, and his first instinct is going to be to go to ground to get the measure of his situation. He'll probably stay hidden for quite a few hours.'
The Carpathian lynx is a subspecies of the Eurasian lynx found in the Carpathian mountains in Central and Eastern Europe. The population is estimated at just 2,000 individuals, and the cats can grow up to 65 centimetres at the shoulder.
More powerfully built than a domestic cat, their ambush style of attack means they rarely run, but will leap from several metres away or out of a tree onto unsuspecting prey.
A spokesman said: 'The lynx is a wild cat approximately the size of a large domestic cat and is grey/silver in colour. If members of the public sight it they should call 999 immediately quoting log 252 of July 7, 2016.
'The animal should not be approached as it could become dangerous if alarmed or cornered.'
Comments
To leave a comment you need to create an account. |
All comments 0