92-year-old war veteran fights for Bomber Command recognition
Monday 14th May 2018 9:59 am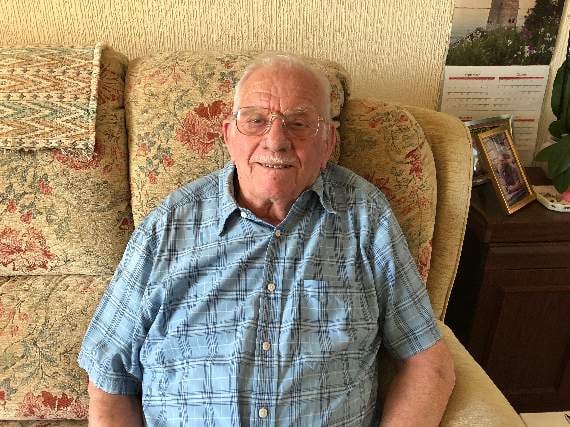 Ivor Foster
Subscribe newsletter
Subscribe to our email and get updates right in your inbox.
A 92-year-old war veteran, and the last one alive from his crew, is determined to be recognised and awarded by Britain for their service during the Second World War.
Ivor Foster, who was a police officer in Halwell from 1951-54, served as one of the many 'bomber boys' in the Bomber Command, and feels betrayed that they never got the medals they deserved.
Since the war ended, he has devoted most of his time campaigning for the Bomber Command to be commended for their bravery.
Ivor signed up to defend his country in 1943 at just 17 years old, and by 19 was a mid-upper gunner in the RAF Bomber Command, risking his life on a daily basis to bomb Nazi-occupied Europe. Known as 'Blondie', Ivor and his bomber boys served together until the end of the war.
They served in other missions as well, picking up British prisoners of war and liberating civilians by dropping 6,680 tons of food parcels to the starving people of Holland.
The bomber boys were sent to the Netherlands to relieve civilians from the Dutch Famine of 1944-45, which broke out when Germany halted the supply of food and fuel going into the country, causing more than 22,000 people to starve to death.
Ivor said: "We always reckoned that those trips were the best of the lot. We knew we were helping a lot of people. We got so close to the ground [to drop the food], that you could see all the people below. I saw one lady kneeling with her hands in prayer.
"That's also when we brought back our prisoners of war. Our boys would have been prisoners of the Germans since 1939."
From 1939 and up until D-Day on June 6, 1944, RAF bombers crews were awarded the Europe Star for operational flying, however after the sixth of June, on Winston Churchill's orders, the medal ceased to be given out.
After the war, Churchill was approached by their Bomber leader, stating that the volunteer bombers all over Britain should receive a Bomber Command Medal, but Churchill outright refused to award them.
Ivor reached out to David Cameron in hopes of making traction, and got a response from the press office saying, "Mr Cameron thanks you for your letter," but has not received anything further.
Ivor then wrote back saying, "Mr Churchill refused the Bomber Command of a medal. It was wrong what he did, because at the time of refusing the bomber command medal, he didn't only betray English bomber boys, he betrayed all the other volunteers that came over from the commonwealth. And if we'd never had their help, we'd have never won the war."
Ivor said: "Churchill turned his back on them as well, and it was wrong."
Ironically, Ivor presented a book called 'So Many - A folio dedicated to all who served with RAF Bomber Command' and in it reads a quote from Winston Churchill himself stating, "All your operations were planned with great care and skill. They were executed in the face of desperate opposition and appalling hazards. They made a decisive contribution to Germany's final defeat.
"The conduct of these operations demonstrated the fiery gallant spirit which animated your aircrews, and the high sense of duty of all ranks under your command. I believe that the massive achievements of Bomber Command will be long remembered as an example of duty nobly done."
His efforts haven't gone unnoticed, however. Just over two months ago on March 2, Ivor received a 'Thank You Liberators 1945' medal as a token of gratitude for contributing to the liberation of the Netherlands during the Second World War.
His friend, who knew knew about Ivor's campaigning, and must have done some research, emailed him to tell him about the medal.
Ivor said: "I had no idea we were even owed a medal from the Dutch government. Then out of the blue I received it in the mail. The medal dates 1945. I'm very proud of it"
He is determined to continue to fight for the Bomber Command Medal, and has set up a petition online in hopes of having their efforts recognised.
Ivor now lives in Plymstock.
Comments
To leave a comment you need to create an account. |
All comments 0