Riversiders upbeat despite heavy defeat
Thursday 4th October 2012 10:00 pm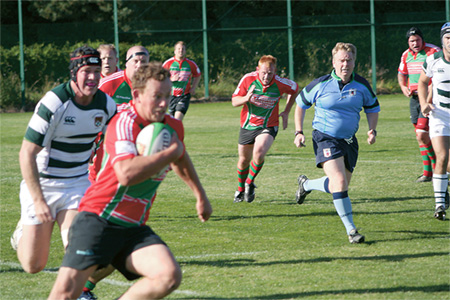 Dartmouth go flying up the wing during their loss to fellow league new boys Exeter University
()
Subscribe newsletter
Subscribe to our email and get updates right in your inbox.
Injury-hit Dartmouth were not too disappointed with this score.
Last year Dartmouth lost 80 points to five, so Dartmouth if nothing else is consistent, whereas the Uni boys will be a bit disappointed that they only put fifty points passed an under-strength Dartmouth team.
The fitness of the Dartmouth side showed this season as well and it's thanks to Steve Atkins and Chris Chater for their fitness training that the Dartmouth boys have received over the summer.
Dartmouth started this game with good intent and kept the ball in hand, knowing if they went to ground the Uni boys would pounce.
It was Exeter who crossed the white wash first, picking up a loose ball on Dartmouth's 22 and going over for the first of the day, kicking the conversion with just seven minutes gone.
Dartmouth hit straight back with a try of their own. Andy Williams caught the ball from a line-out, setting up a rolling maul, and the Dartmouth pack powered its way over the line after twenty minutes, power house Reg Varney dropping down to the right of the posts.
Dartmouth were unlucky not to have been given the next try, with Iain Watton this time catching a ball from the line-out, again Dartmouth setting the rolling maul, on Exeter's 22, this time Luke Clements ripping the ball and going over.
Unforttunately for the Riversiders, the referee adjudged that Clements was held up.
 Exeter held their nerve and were awarded a penalty with 25 minutes gone and duly took their chance, slotting the penalty over to make the score 10-5.
Damion Pye came off just after that penalty, his hamstring and calf strain putting pay to his contribution to the game.
Exeter pounced again and went over on the half-hour mark and kicked the conversion. Dartmouth hit back but couldn't penetrate this well-drilled Uni side, and Exeter scored again just before half time.
Dartmouth regrouped at half time and took the game to Exeter, but the Uni boys picked up a loose ball on the half way line and went over again with just two minutes of the second half gone.
From this point on it was just a case of damaged limitation, with Exeter pounding Dartmouth's three-quarter line.
If it wasn't for the bravery of Dartmouth's tackling, in particular Adam Sharam, Luke Clements, John Dingle and Colin Wilson, to name just a few, it could have been a different scoreline.
But from the start of the second half Exeter gave it their all, bringing on replacements and putting a double brace of tries against Dartmouth and kicking the conversions.
Dartmouth will have to regroup quickly for this week's game. Dartmouth host New Cross with a 3pm kick-off.
New Cross are a good tactical side and will be a good test for Dartmouth, in this league there is no easy game, but rest assured Dartmouth will give it their all.
Coming back from injury, hopefully, will be Richard Lobb and Luke Bridgwood, and Atkins may have the pick of Jake Bridgwood, Ben Peters, Miguel Tenreiro, Martin Sharam and Dave Cudd, to mention a few.
Jayne Hammond, the landlady of The Cherub, will be sponsoring this match and the boys would like to thank her for her sponsorship.
Comments
To leave a comment you need to create an account. |
All comments 0