President's side take a valuable victory
Thursday 14th June 2018 1:23 pm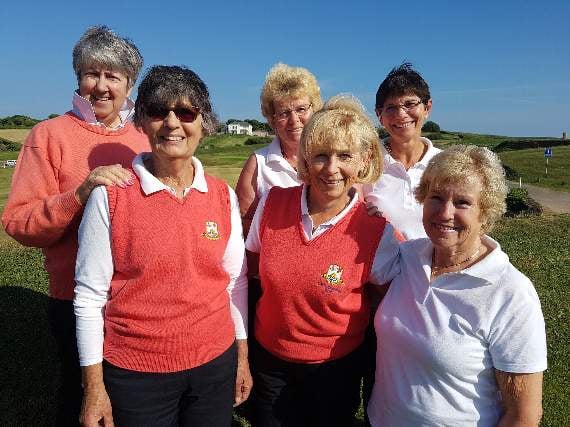 The Sheelah Creasy team, back row Joan Booth, Yvonne Pike, Jane Smyth, front row, Liz Savery, team captain Sheila George and Margaret Tucker
Subscribe newsletter
Subscribe to our email and get updates right in your inbox.
The ladies' president's team were victorious in their match against RND at home, winning by four matches to three on Monday writes Liz Line.
The winning ladies were Heather Spencer 5/4, Wendy Stewart 4/3, Barbara Smith 8/6 and Jane Mahood one up. Gill Hicks, Liz Hay and Sally Huntley were not so lucky in their matches, but put up a strong opposition.
The course was magnificent and all agreed the ball was travelling much further than it had been previously.
Thunderstorms had been forecast but all matches were finished in the dry. As always, they made new friends during their matches.
The Sheelah Creasy team were in action at home against Ilfracombe on Friday but they lost 11/2-51/2. The winning ladies were Gill Markham 2/1 and Liz Savery got a half. The other matches were very closely fought, Joan Booth lost 2/1 and Yvonne Pike lost on the 18th.
The third round of the Emerton Court Cup competition beckons for Thurlestone seniors following a creditable 2½-2½ draw in their away leg against Dainton Park.
With the home game due later this month, team captain Bill Campbell feels that Thurlestone has a good chance of further progress in this county-wide contest.
It was Bill and club captain Harry Cattell who set the pace at Dainton with a four and three win, followed by a one up success from Graeme Fairley and Peter Jones.
The close nature of the match was reflected in the remaining scores, with Malcolm Toone and Paul Dunne losing two down, Bill Hutchison and Derek Harwood coming away with a half and Peter Coates and Patrick Robin­son finishing one down.
Barbara Smith had a hole-in-one on the sixth hole while playing in round two of the Tatham Cup match against Roberta Price on Saturday. She also won the match!
The last winner was Jan Brooking back in 2008, who presented the sweepstakes money prize of £78 to Barbara. Barbara provided a glass of Pimm's to all the ladies playing in the medal event on Wednesday and the hole-in-one cup will be presented at a later date.
The ladies had lovely weather on Wednesday for the EG Medal and Betty Ord Trophy competition.
In division one the winner was Gill Hicks (13) 71 from Jennifer Roberts (3) with net 73, third Barbara Smith (18) 75. In division two Roberta Price (24) had a net 71 and a handicap reduction to 23, from Yvonne Pike (26) 72, third Liz Line (24) 75.
The winner of the Betty Ord Trophy was Gill Hicks, just beating Roberta Price on countback. There were three twos, Liz Coates on the 13th, Jane Mason on the fifth and Janet Richardson on the sixth.
In the nine-hole stableford competition the winner was Audrey Coffell (36) with 22 points and a reduction to 34, from Anthea Proctor (36) 18 points.
Eighteen pairs took to the course on Thursday for the seniors' greensome stableford. The winners were James Hay and Nick Lipson 39 points from Robbie Robertson and Patrick Stanley with 38 on countback from Gordon Jeffrey and Mack McCoy also 38. There were two twos, both on the 17th; Derek Harwood and Bill Hutchinson, and Robbie Robertson and Patrick Stanley .
Thurlestone are holding an open coffee morning at 10am to noon next Saturday, June 16. All are welcome to have a coffee and see the newly refurbished bar and restaurant.
Lesley Saffin and Liz Hay beat a Wrangaton pair at Dartmouth 2/1 in the second round of the Devon County Ladies Vets. They were five up after the 11th, but after a 'wobble' they eventually won on the 17th. In the first round they beat Fingle Glen at Tavistock GC.
The Graham Cup Medal on Saturday attracted 43 entries and the weather was good so there were some low scores.
In division one the winner was junior Noah Mulligan (11) with net 70 and a handicap reduction to 10.2, from Nick Crispin (12) net 71, and third Matthew Reed (13) also net 71. In division two Alan Harkness (18) had a net 68 and a handicap reduction to 16, from Ron Bancroft (28) net 71.
Thurlestone won 4-3 against Saunton in the mixed matches on Saturday and everyone enjoyed their match followed by a lovely meal.
The winners were Linda and Graham Cant (two up having been down most of the way round) Barbara and Graham Smith (4/3) Sue and Alec Esplin (8/7) and Wendy and Philip Laud (4/3).
It was a shame the two-day event was reduced to one day, having had two successful years in that format, but it was agreed that this is probably the best way forward for next year.
It was a fantastic day at the second Devon Golf U14 Access Tour event on Sunday.
The nine-hole Acorns course was in great condition for the 35 junior competitors. In category two, Thurlestone's Dom Holt-Wilson took second place with 23 points and a handicap reduction to 50. The next event is scheduled for Holsworthy Golf Club on Sunday, July 8.
Comments
To leave a comment you need to create an account. |
All comments 0