Pair power to Sicklemore Cup win
Friday 8th June 2018 1:06 pm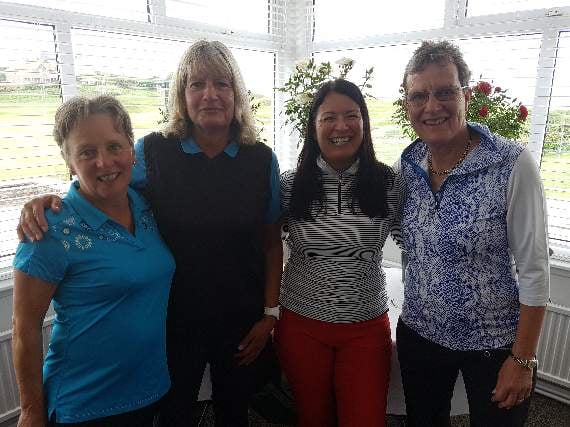 Judith Lungmuss, Liz Hay, Tsai Wharton who won the Rainbow stableford with captain Heather Spencer
Subscribe newsletter
Subscribe to our email and get updates right in your inbox.
The bank holiday Monday was one of the hottest days so far this year but 40 members battled it out for the Mixed Sicklemore Cup writes Liz Line.
The top eight pairs also qualify for the knockout competition for the Royal Marine Cup. The winners with 40 points were Mark Chapman and Jane Edmonds, from Hayley and Steve Pepperrell with 38, and Pam St Leger and Neil Thompson on 36.
The ladies played a rainbow stableford in teams of three, with two scores to count, for the Memorial Day on Wednesday. The Memorial Day is held to remember ladies who have died and recently we sadly lost Jacquie Tillott, Katina Bunn and Trish Bowman. These ladies had been members for many years and had been playing golf up until their deaths. This day replaces the Iris Hardy Day, which remembered another much-loved lady member.
The drizzling rain put quite a few ladies off playing so it was reduced to 11 holes. The winners were Liz Hay, Judith Lungmuss and Tsai Wharton with 57 points, from Janice Croke, Liz Lacon and Clare Baron with 55. In third were Gill Hicks, Yvonne Pike and Nicole Carter with 52 points.
There was only one two, by Lesley Davey on the third hole. There was a lunch afterwards and a raffle and the proceeds of the day; £237 will go to the Kingsbridge Chemotherapy Outreach Unit.
There was a record of 16 ladies entered for the Cora Putting Cup, played as a knock out competition after the Memorial Fun Day.
The first few rounds were played over nine holes with the final over 18 holes on the front putting practice green. After many close matches, the two finalists who came through were Zoe Lepere and Gill Hicks and with a small crowd to cheer them on Zoe emerged as the winner finishing two up.
The Elizabeth Buckingham Bowl match was played away at Bigbury last Sunday, when 10 pairs played in sunshine. The bowl was presented by Elizabeth Buckingham, who was a member of both Bigbury and Thurlestone before her death.
The result was a draw, with each club winning five matches each, but because Bigbury were in possession of the trophy from their win last year, they retain it.
The winning pairs were club captain Harry Cattell and Judith Lungmuss, Gill Markham and John Davie, Steve and Hayley Pepper­rell, Bill Campbell and Jenny McKeague and Barbara and Graham Smith. We all enjoyed a meal and good company after the match.
There's no denying it, reports Alan Goldsmith, Thurlestone seniors were outplayed on their visit to Dartmouth with a 6-0 scoreline, and that followed on from a 1½ to 4½ defeat in the home leg back in April.
Jeremy Poyntz and Hywel Jones came close with a two and one defeat while Derek Harwood and John Davies had a three and one loss.
The rest, having one of "those" days, were Malcolm Toone and Chris Holmes (four and three), Paul Dunne and John Savery (six and five), Graeme Fairley and Roger Seymour (five and three) with Patrick Robinson and Val Harder (five and four). The only Thurlestone player with any reason to smile was Derek Harwood for being nearest the pin.
It was a great day at the South West Boys' Championships at Knighton Heath in Bourne­mouth. Devon won the six counties event against Cornwall, Glouces­tershire, Somerset, Wiltshire and Dorset. The Devon team comprised the top six U16s and the top three U14s; in the U14s Alfie Messias proudly flew the flag for Thurlestone in the team and he is now ranked number three in Devon for his age.
The stableford competition on Saturday had a large field and some excellent scores. The winner in division one was junior Toby White (13) with 43 points, and a handicap reduction to 11, from Noah Mulli­gan (12) with 42, also reduced to 11 and third was Laura Tregelles (6) with 40 points on count back from Dave Eva (1) also 40.
In division two the winner was Alec Esplin (18) with 39, from Peter Bennett (17) 36, third Rob Hyde (22) 34.
Thurlestone's palairet team played Dartmouth at Stover on Sunday and won 3/2 . They will play Wrangaton in the next round.
The captain Steve Pike and Darrell Day won one up, Chris Jones and club manager Simon Bawden won 6/5, James Mitchell and James Toogood won on the 20th. Dave Eva and Dan Cunningham lost 4/3 and Kevin Rogers and Alan Maher lost one down.
Comments
To leave a comment you need to create an account. |
All comments 0