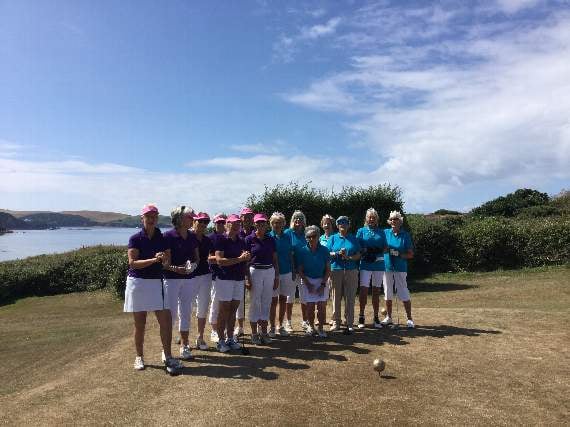 The annual match between ladies named Jane (team on left) and ladies named Liz (blue team) resulted in a win for the Lizzes
()
Subscribe newsletter
Subscribe to our email and get updates right in your inbox.
On Tuesday it was the annual Liz vs Jane matches, the third year it has taken place writes Liz Line.
Originally the teams consisted entirely of appropriately named players, but absenteeism or illness meant that this year the Liz team fielded a Victoria, and the Janes had a Gill, a Joan and a Janice in their ranks.
There were six Lizzes; Liz Sharman (captain) Liz Coates, Liz Davies, Liz Line, Liz Hay, Liz Stewart, plus Victoria Gibbens.
The Jane team were Jane Mahood (captain) Jane Mason, Jane Stanley, Jane Smyth, Janice Croke, Gill Markham and Joan Booth. Team colours were worn. Nearest the pin on the sixth was won by Victoria Gibbens for the Liz team, and the longest drive with a marshmallow was won by Liz Sharman.
The Liz team won by 5.5 to 1.5, and were rewarded with a very nice yellow ball. The Jane team are already planning next year's match and encourage any lady named Jane to join TGC where they might be offered very favourable membership rates!
Liz Davies wrote an ode to celebrate the match which is on the club website.
The ladies three-ball Bowmaker qualifying competition on Wednesday proved very popular as the final will be held at Thurlestone on Thursday, October 4.
The two teams who qualified were: Lady captain Heather Spencer with Liz Hay and Lesley Saffin with 86 points, from Jennifer Roberts, Sara Harkness and Zoe Lepere with 85. The format was two scores to count off 90 per cent handicap.
With three matches in one week – against Saunton, St Mellion and Bigbury – Thurlestone seniors have had mixed success, the biggest disappointment being defeat in the quarter final of the county-wide Emerton Court competition.
Having lost 3-2 against Saunton in the home leg, Thurlestone faced an uphill struggle and eventually lost 3-2 again, to give an overall score of 6-4.
Match captain Bill Campbell, partnered by club skipper Harry Cattell, had made an encouraging start by winning 2-1 but a strong home side recovered to take the next three games before Graeme Fairley and Geoff Holt posted a 2/1 success.
John Davie and Peter Coates, John Mahood and Patrick Robinson, as well as Bill Hutchison and Derek Har­wood, all put up strong opposition but it was the North Devon team which earned a place in the semi-final.
At St Mellion the seniors arrived with a healthy lead but were eventually beaten 5-1 to give an overall losing score of 6½ to 5½ after struggling against an experienced home side.
Match captain Patrick Robinson admitted: "An excellent post-match meal of roast beef made up for the loss!" With partner Malcolm Toone, Patrick had secured one of Thurlestone's two halved games, the other being from Bill Hutchison and Alastair Proctor.
The less successful pairs were Graeme Fairley and Hywel Jones, John Davie and Mike Allen, Bill Campbell and David Horne, plus Chris Holmes and Val Harder. Nearest the pin winner was Alastair Proctor.
Near-neighbours Bigbury proved to be determined hosts for the second half of their annual battle with Thurlestone who had won decisively in May.
Match skipper Geoff Holt and Peter Jones went three down early in their game and battled back only to lose on the 18th, but Chris Holmes and Patrick Robinson secured a 4/ 3 win.
Then Malcolm Toone and Ron Bancroft lost 2/1, with Derek Harwood and Mike Morgan following up to win 4/3. When Mike Allen and John Mahood went down 3/2, it was late stand-in Nick Lipson with Val Harder, who sealed the draw, making the overall score 7½ to 4½. Nearest the pin for the visitors was Malcolm Toone.
On Saturday it was a very windy day with frequent showers sweeping through and the scoring was low.
The best result came from the winner in division two who was William Potts (17) with 38 points from Robert Hyde (20) 37 points. Darrell Day (4) headed division one with 36 points from Stewart Barnes (6) 35 and Jim Stewart (9) also 35.
Comments
To leave a comment you need to create an account. |
All comments 0