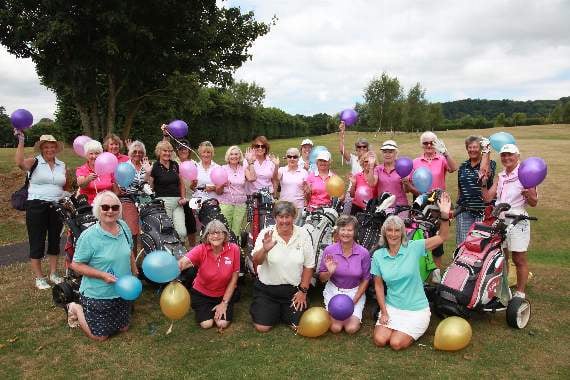 The Bigbury ladies with their 'Mulligan Balloons' at the Captain's Away Day
()
Subscribe newsletter
Subscribe to our email and get updates right in your inbox.
On Tuesday, July 24, Bigbury ladies had a most enjoyable away day at the Bovey Tracey Golf Club writes Marlene Johnson.
Bovey Tracey is unusual in that the golf club is family owned and run. We were made most welcome by Laura, whose grandfather started the club some 18 years go, and her friendly team.
The weather was super for golf and the course played really well.
The golf was a relaxed three-ball team stableford format, with just two scores to count.
Every player had a 'Mulligan', which allows a bad shot to be played again, without penalty, even though this is against the formal rules of golf! Each player had a Mulligan balloon tied to their golf trolley and when their Mulligan was used, they had to burst their balloon.
The winning team with a very good 79 points, were Faye Pannell (22), Sue Warren (26) and Karen Hales (36). In close second with a good 77 points were Jenny Balkwill, Brenda Lee and Sally Watts.
As well as the prize for the winning team, there were three additional prizes and the winners of these were: nearest the line Christine Greenfield (34); nearest the pin Sally Watts (30), and the longest drive Chris Bridgett (34).
The winning ladies enjoyed having two chances at these prizes as Bovey Tracey is a rather tricky nine-hole golf course, with the back nine played off different tees. The ladies all enjoyed a relaxed, fun style competition, with a good meal afterwards followed by the prize giving.
The ladies' extra stableford competition on Thurs­day, July 26, had 22 players competing, again in super weather.
The winner was Mary Wilcox (21), with an excellent 40 points. In second place, on countback, with another excellent score of 39 points was Helen Bertram (31), third was Gabrielle Service (29) and in fourth place with 38 points was Jenny Balkwill (25).
Handicaps continue to fall at Bigbury; with the course playing so well and as a result of their scores in this stableford, Helen Bertram went from 31 to 29, Gabrielle Service from 29 to 28, Mary Wilcox from 21 to 20, and Jenny Balkwill from 25 to 24. Very well played ladies.
The men's July midweek medal also resulted in excellent scores with resulting handicap reductions. Some 44 players took part and the winner with a very good net 65 was Kevin Rowe (28).
In second place with a net 67 was Michael Warren (16). In third place, on countback, with a net 68 was Tony Bunch (18), and fourth was Ken Salter (30).
Again, handicaps were cut and Kevin Rowe went from 28 to 26, Ken Salter from 30 to 29, Michael Warren from 16 to 15, Tony Bunch from 18 to 17, Graham Postance from 25 to 24 and Alan Evans from 13 to 12. There were four twos, Stephen Smith and Paul Bower on the 10th, John Cocks on the 15th, and Alan Evans on the 17th.
The men played their Pickwick Bowl competition on Saturday, July 21, where the players compete against the course.
As the course is playing so very well, it duly lost and 24 of the 44 men entering, played to their handicaps or better.
The winner with an incredible score of +7, was Jason Holtom (handicap 14). There were three players with an equally excellent score of +6 so on countback, second was Wilf Cunningham (15), and equal third were Matt Nadin and Robin Leach both with handicaps of 13.
Yet again, handicaps tumbled and eight players were cut, and for Jason Holtom his winning +7 score led to his handicap being cut by two shots, 14 to 12, as well as an exceptional scoring reduction of .5 also being applied. Hence, Jason now has a handicap of 11.
Again there were numerous twos made on the third, 10th, 15th and three on the 17th hole.
Special congratulations are recorded to Denis Killen, who made an eagle two on the difficult 16th par-four dogleg hole. But, very well done all the 44 men who played in this competition.
Comments
To leave a comment you need to create an account. |
All comments 0