Batting falls down as Kings suffer a defeat
Thursday 14th May 2015 10:00 pm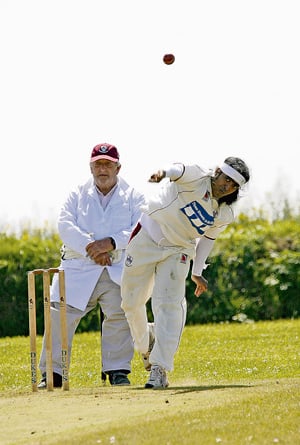 Kingsbridge 1st XI captain Bhanu de Silva in action
()
Subscribe newsletter
Subscribe to our email and get updates right in your inbox.
Devon Cricket League 1st XI C division west
Kingsbridge (six points) lost to Whitchurch (18)
The first home match of the season saw Kings­bridge pa­rade new sponsor Three Sheets to the Wind Shirts.
A very wet pitch saw Bhanu de Silva insert the opposition on winning the toss.
Rosewarne and Peach began well, soon reducing the visitors to 5 for 2. This soon became 31 for 5 when de Silva introduced himself.
Kingsbridge thought they were in for an early tea, but as the pitch dried Billy Bar­riball stuck around and started to score.
Kingsbridge's change bowlers were all rusty and never found a telling length, especially up the hill into a strong wind once Peach finished his spell.
Barriball (45) put on 69 with Ewen Smith (31) before both perished to De Silva on his reintroduction.
At 101 for 7 again Kings should have pushed on, but they didn't and Nigel Barri­bal (43) took Whit­church to 161 all out. De Silva was the pick of the bowlers with 5 for 33.
After tea saw the conditions change to suit Whitchurch; the wind dropped and the pitch's bounce got lower and slower.
However, this was no excuse for Kings­bridge's capitulation. 12 for 4 saw the top order decimated, and this became 40 for 6 when Will Dorey ran himself out after doing all the hard work and looking set.
It was left to Clive Clark (40) and James Rosewarne to try and repair the damage.
They put on 47, taking the total to 87 and giving Kings a chance until Rosewarne missed a straight one.
This was the beginning of the end with Kings eventually all out for 113 and Whit­church's bowlers wishing they could play Kingsbridge every week.
Kings go back to the drawing board with some serious batting and bowling practice required before this week's home game against Stoke Gabriel.
The match ball was kindly sponsored by Healthwise.
Devon Cricket League 2nd XI B division west
Abbotskerswell (18 points) beat Kingsbridge (two) by eight wickets
On a sunny day away at Abbotskerswell, stand-in skipper Matt Hammett won the toss and chose to bat on a slow, damp wicket, seeing John Hardy and debutante Aaron Chandler opening the batting.
J Hardy looked in top form, smashing the ball all around the ground and pushing the fielders further back to­wards the boundary, while Aaron was looking steady and sweetly timing the ball, unfortunately straight to the fielders.
In the fourth over he picked out the fielder and was out for two.
Church and Robin­son came and went, then captain Hammett entered to steady the ship with J. Hardy.
They both did their best to stay at the crease while scoring some runs, which was done until Hardy looped one in the air and the catch was taken on 36, which was the top score.
Young Toby Church­er came and went for 0 but made up for it with some tight bowling in the second innings with figures of 0-15, including a maiden.
Mike Perkin came into help Hammett with the run scoring but finally Hammet's resistances came to an end when he was bowled for 27, followed by Perkin for one.
This left Lynn and Kovacic to bring Kings­bridge past the 100 mark and earning them a batting point. In the final over they made it to 112/8, with Lynn 20 not out and Kovacic six not out.
With Kings only having 10 players it was always going to be tough to defend, but even with some great fielding the Abbots openers did the damage.
They smashed the ball all around the park, both making 50, and did not look like getting out until two great bowling changes.
One saw Olivia Churcher taking her first first-class wicket, a catch which was taken well in the field by Hammett, seeing as last season when Olivia bowled and there were two catches dropped by the same player.
The other bowling change saw Church taking a wicket, but the two new Abbots batsmen took the score past Kingsbridge's 112 within an hour.
The club wishes to say thanks to the Chur­cher family for helping out on Saturday, with two playing and the parents scoring and umpiring.
A spokesman said: 'Thanks go to the stand-in players that helped out, because without them we would not have played and lost points, so thank you everyone.'
Next Saturday's game is away to Ivy­bridge starting at 2pm.
The club wish to say that if there are any players out there who want to take up or come and play for Kingsbridge Cricket Club, the outdoor net are on a Wednesday evening at the cricket club at 6pm start.
Sadly last week Kingsbridge Cricket Club lost its president, Cyril Courtney. A minute's silence was observed during the 1st XI's match. All at the club would like to send condolences out to his family and friends, he will be sadly missed.
Cyril was president for many years and always had a smile on his face and was always welcoming to every new member.
Meanwhile Peter Shephard, the captain of Devon over 60s seniors this year, started his tenure in style by bringing his team over the line versus a strong Glouces­tershire side at Stroud.
Devon bowlers res­tricted Glos to only 116, with Devon knocking the runs off for the loss of just four wickets, Sheps leading the way with a patient 43, assisted by Coe 23 and Flicker 33 not out.
Cheshire on Thurs­day are the next opponents.
Comments
To leave a comment you need to create an account. |
All comments 0