Twinning town bond ends after 58 years
Monday 4th March 2019 4:23 pm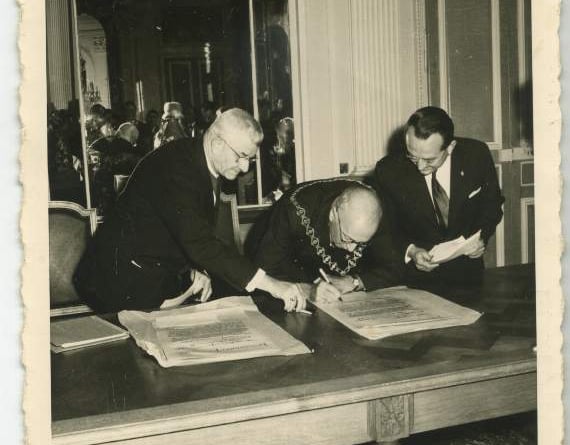 (from left) Georges Lion, mayor of Isigny-sur-Mer; W. Jerwood, mayor of Kingsbridge; and Pierre Voillaume, president Isigny/Kingsbridge Twinning Society
Subscribe newsletter
Subscribe to our email and get updates right in your inbox.
After 58 years and many international visits, a town twinning bond is coming to an end.
The Kingsbridge Twinning Society recently received a letter from the twinning committee in Isigny-sur-Mer, Normandy, France formally ending the 58-year-connection between the two towns.
It had been impossible in Isigny to form a committee of volunteers, which KTS secretary, Jean Turrell, said is something common to many organisations here in Kingsbridge.
The twinning began in 1961 when the mayor of Isigny, M. Georges Lion, arrived in Kingsbridge and proposed a twinning between the two similar towns, both of which are head of an estuary, and both have strong farming communities.
After a public meeting in Kingsbridge it was decided to accept his proposal and the charter was signed between the two towns that same year.
Throughout the years, Jean said the twinning went from "strength to strength", with connections and visits made by the fair week princess and committee, the Kingsbridge Silver Band, and the football club, among others.
Later, It's a Knockout games were hosted between the three twinning towns of Isigny, Kingsbridge and their latest German twin town, Weilerbach.
The games started in 1986 and continued over a 20-year period with teams of young people from the three towns meeting in each town in turn.
Jean explained that in the first 20 years from the 1960s to 1982, the schools exchanged visits and there are many people who will remember this as their first experience going abroad.
She said: "There were very memorable visits to and from Isigny and many friendships were formed, some of which still persist.
"The twinning committee regret the breaking of the formal link between our two towns, but there are many who will continue their personal contacts with families in Isigny."
In September, the committee is making a visit to Weilerbach for the New Wine Fest from September 19-26.
If anyone is interested in taking part, contact Jean Turrell at 01548 521341, or email [email protected].
Comments
To leave a comment you need to create an account. |
All comments 0