The regatta has to change says its chairmen.
Monday 5th February 2018 10:34 am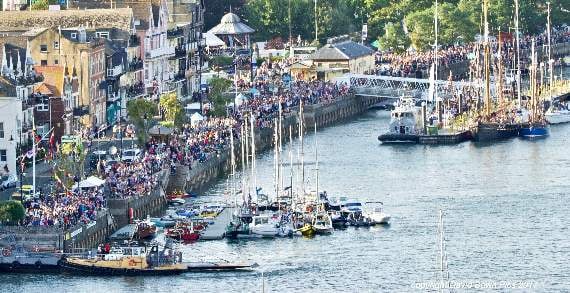 Port of Dartmouth Royal Regatta credit: David Bown
()
Subscribe newsletter
Subscribe to our email and get updates right in your inbox.
Losses of more than £56,000 in the past two years mean the Port of Dartmouth Royal Regatta is unsustainable in its current form, according to event chairman Ed Botterill's report at the annual public meeting.
At the Guildhall last Friday, Mr Botterill said the costs of clearing roads, security guards and the public address system are too high. He said the ball and Regatta Rock both lost money and that more volunteers are needed.
Regatta director Hilary Bastone said the committee is considering measures to cut the losses, including no air displays or marquee, scrapping the park-and-ride extension and having fewer parking restrictions and security guards.
Treasurer Lesley Turner revealed the financial results to the meeting. Total revenue was £177,000, down from 2016's, while costs rose. This meant it made a loss of £36,500 in 2017, compared with a £20,000 loss the previous year, a figure revised upwards due to a VAT adjustment.
Ms Turner said the loss was down to reduced income and the cost of the marquee, fireworks, road ­closures, marketing, advertising, rent and Coronation Park. The loss was incurred despite increased ­revenue from programme sales and tickets for the ball and a drop to the park-and-ride insurance.
The dates for 2018's event are Thursday, Friday and Saturday, August 30 to September 1.
Mr Bastone, reading from Mr Botterill's report, said: "For many years now we have heard from ­various corners that the regatta isn't what it used to be.
?"I can report that what you have heard is correct: the regatta did not have to pay £14,000 for security guards, £20,000 to clear the roads and £14,000 for a PA ­system.
"We have been working hard to deliver a regatta 'just like it's always been', but unfortunately this has proven not to be a sustainable model.
"We've gone back to first principles and asked: do we need to close roads and cancel so much parking?; do we need to close all or part of the river for air displays?; do we need an elegant marquee when we have two excellent venues in town already?; and do we want to take people to the edge of town, away from our own shops?
"The crux of our problem is that we need people willing to help, to turn their opinions into actions and shoulder some of the burden of organisational responsibility and allow us to avoid the possibility of an irrelevant, outdated, unchanging and unsustainable event."
When interviewed after the meeting, Mr Botterill said: "The cheapjacks have been part of the regatta for many years. Closing the North Embankment for them causes a one-way system in the town. This is one of the things we've already investigated with Devon County Council as to how our Temporary Traffic Restriction Order might be amended.
"Traders do pay for the ­privilege of ­selling their wares, which forms a valuable part of our income.
"The regatta offers entertainment and attractions until late, and while several establishments in town offer takeaway food, many still close before 5pm. They also often have queues down the pavement. So to allow for a continuation of quality, choice and availability, the food stalls in the Avenue Gardens remain.
"They're are also part of our charter, so we're fulfilling our remit as directed in the proclamation.
"The air shows are popular. You will always have divided opinions. They're also quite expensive and have more ­hidden costs, such as road closures and crew costs. As was seen last year, the effort of enforcing the existing regulations is another hidden cost. While we've put in a bid for them for 2018, they're at the very top of our list for reconsideration and potential omission.
"Our dedicated team of collectors work tirelessly throughout the regatta period, yet we can always use more bodies to help us draw in donations. We hope those who say they saw fewer collectors around last year might like to step up and perhaps volunteer to help in 2018 – many hands make light work, after all."
The regatta collectors of the year ­winners were announced at the meeting. As he did the previous year, Ben Parr-Ferris raised the most, with £1,285, but the actual award for 2017 went to Jean Watson and Andrew Hamilton for their continued commitment. They raised £1,104.63.
Mr Bastone, making the award, said: "Ben is a young man born and brought up in Dartmouth who now lives away but who comes back each year for the regatta and who puts his effort into collecting.
"Jean Watson and Andrew Hamilton work as a team up and down the embankment. It is an indication of how some people give their full support to the regatta.
"They both live in Paignton. They're involved with Paignton Boys Brigade, and tonight they're at a brigade night – but we'll make a special effort to get the award to them."
Lez Ellis came third in the collecting stakes, having brought in £583.24.
Comments
To leave a comment you need to create an account. |
All comments 0