South Devon Virtual Museum calls for volunteers to help towards 'monumental task'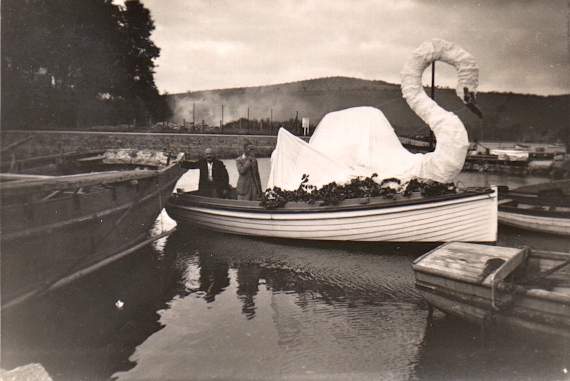 Salcombe Regatta, August 11, 1938 - from the Frank Smith Collection (Salcombe History Society)
()
Subscribe newsletter
Subscribe to our email and get updates right in your inbox.
AN AMBITIOUS project to create the South Devon Virtual Museum has been launched by Salcombe History Society.
The idea is to link all the local history societies together online, and provide detailed genealogy, photography, posters, programmes and documents in one easily accessible place.
The society is now calling on volunteers to help bring the museum to life.
The website already links together Aveton Gifford Parish Project Group, the Cookworthy Museum, Kingsbridge History Society, Salcombe Maritime Museum, South Milton History Group and Stokenham Community History Group.
Ken Prowse from Salcombe History Society explained: 'Recently it's come to our attention that a lot of local history societies have an ageing membership with no information available on the internet. With that in mind, we want to create a website where this information can be accessed easily in one place.
'This will enable people to access it when and where they want to. And this will allow people who can't get to meetings to keep up with the latest research.
'The South Devon Virtual Museum will be easy to access, easy to comment on and allow people to explore the socio-economic history of the area.'
Ken continued: 'We are focusing on the historic area of Woodleigh Deanery, up to, but not including Dartmouth, Ivybridge and Modbury. We want to link together buildings, churches, people and occupations.
'We have loads of documents that need sorting out. They need to be scanned and added to the website. We're hoping to get a few people involved to take on individual projects, or research particular areas of interest.
'And at a later date, we hope to produce booklets on specific topics.'
'At the Salcombe History Society office at Quay House, Kingsbridge, we have all the equipment necessary for such a monumental task - with scanners, computers along with audio recording equipment. We're hoping to get one or two people from each of the local history societies who are willing to put stuff online from home,' Ken added.
Devon County councillor Rufus Gilbert has contributed £300 from the council's locality allowance towards the development of the museum. And district councillor Judy Pearce has contributed £200 from her locality budget.
Cllr Gilbert said: 'I'm absolutely delighted to be in a position to help Kingsbridge maintain the town and community's link to its history and culture. Well done to the society - keep asking me for more!'
Cllr Pearce said: 'I think its a brilliant idea, the more information we have available online, the more use it will be to those who want to research things.
'Particularly for school kids doing projects whose parents might not have the time to drive them down to the history museum.
'And for anyone else doing research, it will be great to have it all online. I'm all for it!'
If you feel you can contribute, Ken Prowse can be contacted by telephoning 01548 854075, or emailing [email protected].
Comments
To leave a comment you need to create an account. |
All comments 0