Visitor Centre planning ambitious £250,000 extension
Monday 21st January 2019 1:16 pm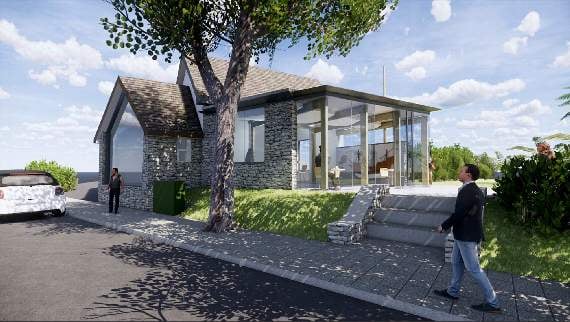 Adam Benns, BBH Architects: plans for the extension
Subscribe newsletter
Subscribe to our email and get updates right in your inbox.
Dartmouth Visitor Centre has unveiled an ambitious £250,000 extension project.
This proposal for Dartmouth Visitor Centre will include display and exhibition space for Mayflower 400, including the replica ship which is currently being built and will form the centrepiece for the project.
The visitor centre will be launching an appeal for donations and putting in grant applications in a bid to fund the extension.
The innovative design will included a glazed facade will provide a new entrance into the centre from the Royal Avenue Gardens, and the roof will take on a sail shape, supported on a mast structure which will be an extension of the M400 replica model.
The extension project was showcased at an visitor centre event last Friday.
Among the guests were members of Dartmouth Town Council which has taken ownership of the visitor centre as part of the assets transfer from South Hams District Council.
In 2017, the council took over the running of the visitor centre to save it from closure and most of the diretors, which included Dartmouth hotelier Nigel Way, stood down. A business plan was then created to try to give the organisation a firmer footing in the future.
Two town councillors are current directors of the visitor centre, Cllr Francis Hawke and Cllr Gina Coles. They are joined by South Hams district councillor Hilary Bastone, who was a director before the town coucncil took it over, and the town crier Leslie Ellis.
In the last financial year, 2017/18, Dartmouth Town Council gave the visitor centre a grant of £3,500.
Visitor centre manager Karen Perrow said: "A key part of our tourism growth strategy is to create compelling new reasons for people to come to Dartmouth again and again.
"This extension proposal is modern and simple in form but we believe expressive with references to engineering, mechanical and nautical in order to maintain a focus on Dartmouth's heritage.
"We have been working closely with Adam Benns, from BBH Architects, and it is hoped these designs will soon form the basis of a planning application to go before SHDC.
"Of course, if the project is to go ahead we must embark on a major fundraising campaign to enable building work to be completed in time for the Mayflower celebrations of 2020.
"As well as exploring grant and lottery options we will be seeking support from the local community for what we believe is a fantastic opportunity for Dartmouth for years to come."
Earlier, Mrs Perrow had said that while visitor information centres were in decline across the country, Dartmouth had held on.
In 2018, more than 74,000 visitors came through the doors of the visitor centre, some 26,000 people more than the previous year, an increase in footfall of 30 per cent, she said.
The centre remained open six days a week throughout the year thanks to its team of around a dozen volunteers and the centre's cruise ship ambassadors group welcomed 10 visiting cruise ships to Dartmouth last year.
She added: "While it is easy to think this will continue, it is worth remembering that given the economic value of tourism, local councils and the community should recognise what role we play in the overall success of the town.
"There is now no statutory requirement on local authorities, who face difficult budget decisions themselves, to pay for the running of visitor centres.
"We are extremely fortunate in Dartmouth that our own town council recognises the work we do and the value we bring to the town.
"Not only has it underwritten us but a few months ago took ownership of our building, which we believe will greatly strengthen our position."
Comments
To leave a comment you need to create an account. |
All comments 0