Liz and Rishi bring their battle to Devon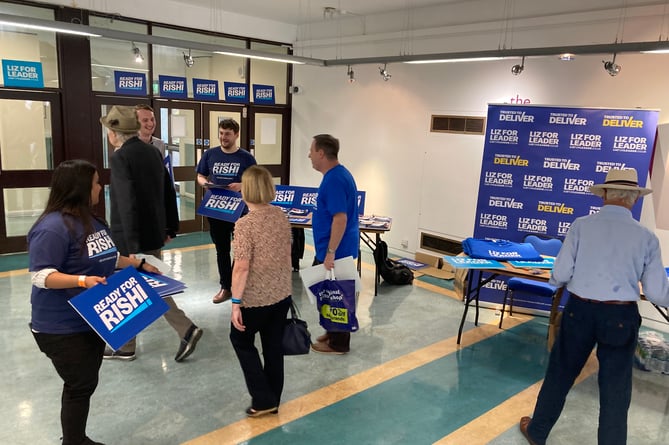 Subscribe newsletter
Subscribe to our email and get updates right in your inbox.
The two candidates for the Conservative Party leadership Liz Truss and Rishi Sunak have been grilled by an audience of party members at a hustings last night hosted by the Whitehall Editor of the FT Sebastian Payne at the University of Exeter.
Liz Truss is far ahead in the polling of party members but there is still just over a month to go before the new leaders name is revealed on September 5 followed by their visit to the Palace to become Prime Minister which is likely to be the following day.
Former Chancellor Rishi Sunk has the backing of both South Hams MPs Sir Gary Streeter and Anthony Mangnall. He was preceded on stage by former Secretary of State for Defence and Secretary of State for International Trade Liam Fox who gave his backing to the former Chancellor.
Last night he cast himself as the 'change candidate' and set out his plan to tackle inflation, grow the economy, cut taxes and secure a historic fifth term for the Conservative Party.
He said levelling-up shouldn't be just for the north but the south west as well.
Housing was one theme he tackled and the former Chancellor called for more building on brownfied sites, using more modular flat-pack housing and said urban areas weren't dense enough.
Mr Sunak said fields should be for food production not solar panels.
On taxation he promises to cut four pence off income tax by the end of the next parliament which he wants to be funded by growth as well as a short-term cut to VAT on fuel.
If elected he said he wanted to build a 'team of all the talents'.
The candidate who came third, Minister of State for Trade Penny Mordant came on stage to reveal she was giving her support to give her to Liz Truss.
Ms Truss is promising £30bn of tax cuts paid for in part by increased borrowing.
'Unleash' was her buzz word which she used several times during the evening.
The Foreign Secretary said farmers should be growing food not just filling in forms and she would support fishermen by getting full control of Britain's territorial waters.
She said levelling-up was not just about the north but about people in rural areas who find it hard to get a mobile phone signal and proper broadband coverage.
Ms Truss plans to raise defence spending to three per cent of GDP by the end of the decade.
Asked if she would overturn the Blair administration's 2005 Hunting Act she said that she wouldn't even though she supported country sports such as shooting.
The Foreign Secretary said she would "remove onerous EU regulations and red tape" if she becomes Prime Minister.
Asked about Scotland and Nicola Sturgeon she branded SNP leader an 'attention seeker' and said the best thing to do about her calls for a second independence referendum was to 'ignore her'.
Both candidates pledged to win back the Tiverton and Honition constituency which was won by the Liberal Democrats in a by-election on June 22 after the resignation of disgraced MP Neil Parish.
South West Devon MP Sir Gary Streeter said: "I thought both candidates did well, but that Rishi answered the questions better as he has a clear and costed plan for our country. I agree that support in the room appeared to be fairly even, and it is noticeable that the polls of Conservative members are now narrowing rapidly if they are to be believed at all and clearly this is going to be a close-run race. I expect Rishi to strengthen further over the next four weeks."
So who won? Despite the national polling which shows a large lead for Liz Truss, based on the very unscientific methods of counting the'Ready for Rishi' and 'Liz for Leader' boards, tee-shirts and especially hearing the cheering I would say Rishi Sunk had won the room in Exeter.
Comments
To leave a comment you need to create an account. |
All comments 0