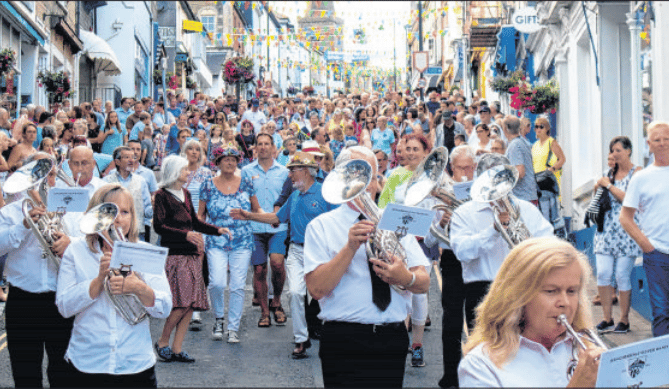 Kingsbridge Silverband leading the flower dance
(Tom Ladds )
Subscribe newsletter
Subscribe to our email and get updates right in your inbox.
The Kingsbridge Silver Band is a part of the institution of Kingsbridge. It made its first public appearance in 1921 so is now over 100 years old: in fact, a special concert had been planned for our centenary year in 2021 but obviously Covid reared its ugly head and this was abandoned.
The band is now up and running once more but, unfortunately, numbers are rather depleted due to a variety of circumstances.
So: - we are looking for any new members – young, old or in between! Maybe you are new to the area and have played a brass instrument before, or perhaps you are a little musical and would like to take up a new skill.
The performances that we are able to do are dependent on the numbers and balance of players, and when able, we love to have concerts on the bandstand or other venues such as the Recreation Park. In fact the Kingsbridge Silver Band was the first musical group to play on the bandstand in 1993.
The Kingsbridge Silver Band has always had a close relationship with the Town Council and some of our 'gigs' are integral to upholding the traditions of the town. One of these, the Glove ceremony and floral dance is such a privilege to be a part of and makes a town like Kingsbridge such a special place in which to live.
For those who aren't familiar with this ceremony: - an ancient charter is first read out by the Mayor at the top of Fore Street. This charter dates from 1461 and was given to the townsfolk of Kyngysbrygge (Kingsbridge) by Henry VI. It fixed certain dates for a fair to be held in July and traditionally yearly accounts were settled at this time. A stuffed glove was extended on a pole indicating that no criminal attending the fair could be arrested (not including crimes committed during the fair!).
Another tradition which is a privilege to take part in is the Remembrance Service at the war memorial on the Quay, when the band accompanies the hymns and, traditionally, a member of the band plays the last post.
The Kingsbridge Silver Band is not a charity and does need to raise money to keep going. One of the enjoyable ways we do this is the playing of Christmas Carols leading up to Christmas at various pubs in and around Kingsbridge and in Kingsbridge itself for most Saturdays in December.
We, as a band, love playing music for people, and I think, for locals and visitors, there is something special about hearing a brass band, with its links to the past for older people and its 'different' sound for youngsters.
We want to continue making music and going forward we do need more players, and would love to welcome anyone who has an interest. We are a very inclusive, friendly bunch who 0meet on a Tuesday evening between 7 and 9pm in the band room next to Tesco's. We have some instruments we can lend you so why not have a go!
Please contact Jo or Neil Taylor on 01548714024 or 07527 686617
Comments
To leave a comment you need to create an account. |
All comments 0