Iconic red phone box to take pride of place in French village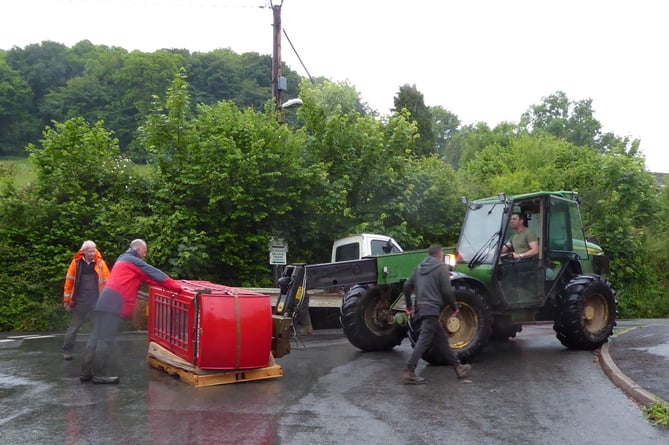 Subscribe newsletter
Subscribe to our email and get updates right in your inbox.
The French village of Fontaine-Henry in Normandy will have a classic red British phone box standing proudly in its main square – if all goes to plan.
Scoriton and Buckfastleigh Twinning Association have learned to always expect the unexpected – in this case, the outbreak of the Covid pandemic which temporarily put the brakes on members' efforts to transport their iconic gift to overseas pals.
Twinning president Anne Goulborn said: "When the Buckfastleigh Town Council offered us the decommissioned telephone box we leapt at the chance.
"It was the perfect gift to celebrate our 40th Twinning Anniversary with Fontaine-Henry."
The traditional red box was taken to its transient home on twinning member Diana Knight's forecourt in readiness for renovation and delivery to France.
But the group had not counted on Covid, and there the box remained for more than a year.
Brexit added to the complications and it looked as though the stranded phone box was about to put down roots in Diana's driveway instead.
Twinner Tim Coulton, tasked with getting the phone box to its new home, said: "Transporting it to France was fraught with difficulty.
"The fallout from Brexit meant transport companies and truck hire firms were not interested – too much red tape.
"We were left scratching our heads."
Eventually local couple Andy Caunter and Cathy Farrer stepped in to help.
Owners of AGM Garden Machinery in the nearby hamlet of Pridhamsleigh, the pair had a truck and wherewithal to take the box to France.
But loading it onto Andy's truck proved the next hurdle.
Luckily local farmer Tom Trueman rode to the rescue on his telehandler.
As he began the task a freak lightning storm struck and Tom, more used to stacking bales of hay, needed his wits about him in order not to drop the fragile cast-iron box.
He successfully managed to lift it onto the truck in readiness for an overnight ferry crossing from Portsmouth on Friday June 17.
Andy and Cathy will be met by the French twinners at the Port of Caen at the crack of dawn the next day to be on hand in case of any Gallic shrugs from French customs officials, said Tim.
The French twinners have played their part in the tricky project too, covering all transportation costs to France and researching the labyrinthine new customs requirements.
Tim said: "It's been a real team effort. We couldn't have managed without them."
Anne added: "The telephone box has become a potent symbol of our 40 years of friendship with Normandy.
"We are using its image on our 40th anniversary commemorative plaque, and it will even feature on beer bottles courtesy of local organic brewer Barnaby's."
After all the detailed planning, twinners on both sides of the English Channel now have all their fingers and toes crossed the precious cargo will arrive in one piece.
Comments
To leave a comment you need to create an account. |
All comments 0