Flaviu the lynx back inside Dartmoor Zoo safe and well after humane capture plan succeeds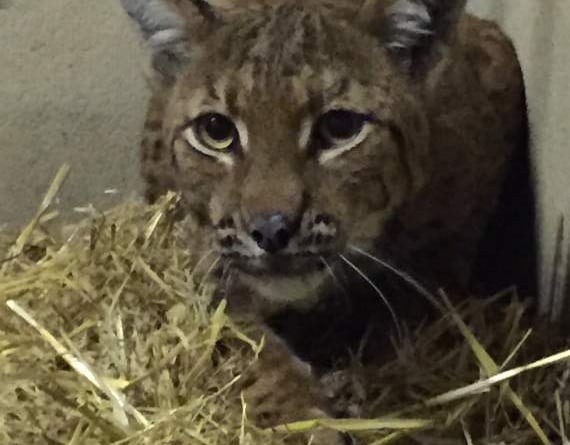 A 'grumpy and irritated' Flaviu back at Dartmoor Zoo soon after his recapture
Subscribe newsletter
Subscribe to our email and get updates right in your inbox.
FLAVIU, the Carpathian Lynx that escaped from Dartmoor Zoo and roamed wild for more than three weeks, has been recaptured safe and well.
The feline became a national celebrity after chewing his way out of an enclosure at the zoo, near Sparkwell, just hours after arriving from Port Lympne in Kent on Wednesday, July 6.
Flaviu, who is slightly bigger than a domestic cat, was found to have left the zoo grounds fairly quickly and staff, volunteers and the police have spent weeks scouring the surrounding areas to find him.
Searchers have employed everything from night vision and thermal imaging cameras, to drones and police helicopters to pinpoint the runaway lynx. And on Saturday, Flaviu was finally trapped and brought in.
Dartmoor Zoo owner Benjamin Mee explained: 'I've got to know the lynx-trapping community pretty well in the last few weeks. The consensus is that you have to stake out a known kill.
'The trouble is, Flaviu hadn't killed, and of course we didn't really want him to, as it would have meant a lamb, or at best a baby deer. But on Thursday evening, we found a lamb that we were pretty sure he had killed.'
The zoo brought in Andrew Goatman, a local slaughterman, marksman and dart gun operator with who it works closely to help with the search. Mr Goatman explained that Flaviu's move onto woollier prey had made him easier to track, and ultimately capture.
He said: 'I'd been following him, I'd worked out his hard boundaries and was tracking him, but the biggest thing that was missing was evidence of kills. He'd been eating rabbits, but he would just munch them all down and not leave anything behind.
'Then we found the first lamb. You could see he was inexperienced in killing them, but by lamb number five he was obviously much better. So at the scene of the kill we set up a trap, and I took the lamb away and replaced it with veal.
'Within six hours of baiting the trap he walked right in. It was just the news I wanted to hear, and I was able to dart him in there.'
Mr Goatman explained he was glad the search was over, having spent most of the last three-and-a-half weeks sleeping on the floor at the zoo to ensure he was on hand to dart Flaviu if needed. He added: 'I do a lot of darting work, with the RSPCA and for other people, I've darted lots of animals, but this was my first time capturing a lynx - and hopefully my last.'
Mr Mee added: 'We've now got a very grumpy, irritated cat, but once you leave him alone in his house, he's absolutely fine. We've put in CCTV, partly so we know he's still in there, and partly to let people see him, but we're hoping he should be out in his enclosure in a couple of weeks.'
Mr Mee also said how pleased he had been by all the positive messages of support and practical assistance the zoo had received throughout the crisis. He said: 'I've been really overwhelmed by the level of support from the local community, and all the messages that I've received online. Everyone has been incredibly supportive, and realistic - even our nearest neighbours, who have been hugely inconvenienced by the whole thing, their livestock has been inconvenienced, but they've been great.
'It's also been really heartwarming, in the midst of all this, to see our staff and volunteers working so hard and supporting each other.'
The safe recapture of Flaviu is a victory for the zoo, which was bought by Mr Mee in 2006. Many had feared the animal might eventually have to be destroyed if it began attacking livestock, but thanks to searchers' patience and Mr Goatman's expertise, the rare lynx lives on.
Mr Mee stressed Flaviu's house and enclosure had been thoroughly refurbished, with the board he had chewed through now much thicker, and a new roof to be added. He also said there were plans to get a female companion for Flaviu, which he hoped would make him settle down a bit more.
However, the saga of Flaviu's escape and recapture may have dealt a blow to those keen to reintroduce lynx to the wild in the UK, according to Mr Goatman. He said: 'It's very interesting, all the experts said that he wouldn't kill sheep and lambs, and would stick to rabbits. But he moved onto lambs, and for the people that talk about wanting to reintroduce them that's a bit of a problem.
'As soon as they start killing livestock, farmers will just shoot them.'
Comments
To leave a comment you need to create an account. |
All comments 0