Council has 'done its best' to rectify error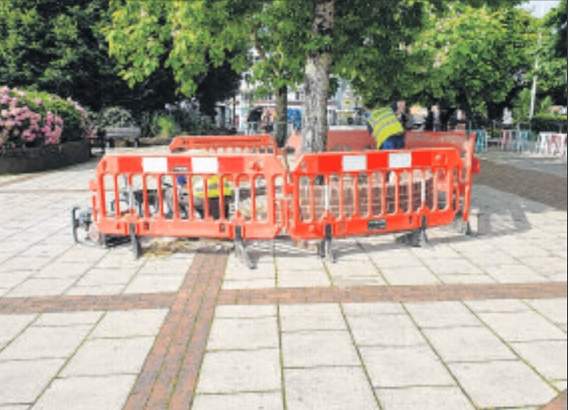 Subscribe newsletter
Subscribe to our email and get updates right in your inbox.
Dartmouth Town Council has removed one of the brick cuffs it recently erected around a parkland tree, as it impinges on the activities of three of the town's major annual festivals.
Town Councillor Cathy Campos says she believes the council made a mistake in putting a wall around one of the trees in Royal Avenue Gardens but says it has "done its best to rectify that mistake in the most cost effective manner."
Earlier this summer the authority spent £5,000 on building walls around two of the long-established trees in the gardens in a bid to shield their exposed roots, which are considered a public health hazard.
But organisers of the regatta, music and food festivals claimed the structures posed a "major impediment" to their annual events, said Cllr Adam Edsall at June's full council meeting.
He said the council had made a "mistake" and festival organisers were "really angry" they had not been consulted.
Now the council has removed the wall around the tree nearest to the bandstand at a cost of some £1,000, and says it will replace it with modular seating which can be removed during major events.
Cllr Cathy Campos explained: "It is being removed because it would have majorly affected the activities of all three of the big festivals in Royal Avenue Gardens.
"For the regatta and music festivals, their stages could not have been erected, and the food festival would have been unable to fit their demo marquee in.
"The council and festival organisers tried incredibly hard to find a solution that would work with the brick collar, but there really was none.
"A new plan voted by the council is to provide modular seating to the area around the tree, enabling it to be removed for big events.
"Quotes are still incoming as we are getting different materials costed, such as treated timber or European oak for longevity.
"Once complete and installed after the summer festivals we will look to carry out works to the other areas at Royal Avenue Gardens with the same issue – roots disturbing paving stones that are currently fenced off for safety.
"The remaining brick collar will stay and it is being topped off with suitable deck next week as people have already been enjoying it as extra seating areas within the gardens when busy.
"As for the cost of removal, it is just over £1,000 which, on balance, was felt justified if it kept the town's three major events from being severely compromised."
Cllr Campos added: "I believe that a mistake has been made but the council has done its best to rectify that mistake in the most cost effective manner while working with the organisers of the three events, which are enjoyed by residents and visitors alike."
There are no plans to remove any of the trees, Cllr Campos assures worried residents.
Comments
To leave a comment you need to create an account. |
All comments 0