Confusion in Salcombe as Church Street and Market Street closed to traffic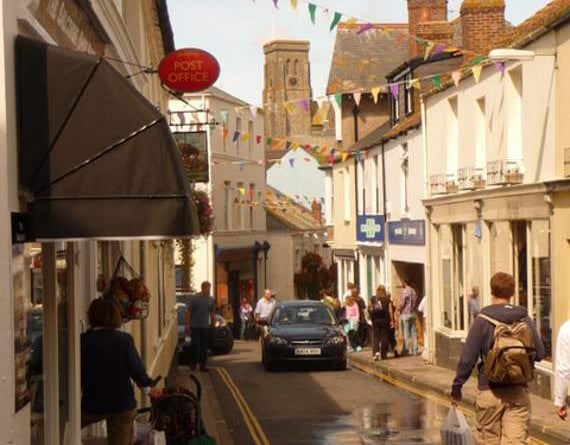 Fore Street, Salcombe (Chris Downer)
()
Subscribe newsletter
Subscribe to our email and get updates right in your inbox.
CHAOS descended on Salcombe's roads this week, as Church Street and Market Street were closed by Wales and West Utilities.
Many people in the town have complained of 'inadequate communication and inadequate signage' by the utilities company.
The work is 'to replace old metal gas pipes with new plastic ones' and as a result, significant diversions and road closures have caused confusion in the town centre.
'Light traffic' is currently being diverted through Island Street and Buckley Street to reach the town centre.
And 'heavy traffic' is directed towards the Harbour Hotel, where drivers have to telephone ahead to arrange for manually operated traffic lights to take them the wrong way down Cliff Road and Fore Street.
Salcombe Town Council met with representatives from Wales and West Utilities in September, and agreed that the work shouldn't take place during the October half-term week, and that it should be completed by the Remembrance Day Parade on Sunday, November 13.
Salcombe mayor Mike Fice said: 'We understand the work's got to be done and there's no other way to complete it without closing the road.
'But nobody knew what was going on until the road was closed on Tuesday.
'The diversions and system in place do work, but the problem is they didn't communicate with the town.
'We did express concern about how narrow Buckley Street is and how only light vehicles will be able to use it. But we've already had a refuse lorry trying to drive down the road and then having to reverse all the way back because it couldn't get through.
Cllr Fice added: 'Somebody from Wales and West has been talking to businesses this week, but we don't think they were notified properly in advance.'
Vice chairman of Kingsbridge and Salcombe Chamber of Commerce, James Spencer said: 'Inadequate notification concerning the very disruptive works currently being undertaken to main roads in Salcombe town by Wales and West is unacceptable.
'Wales and West is required to have liaised with the businesses before the works and that has not been the case. We understand that a representative is now walking around the businesses in the town but this is too little too late.
'Our members are also expressing strong concerns regarding the signage, which is absolutely ineffective and is currently leading to more confusion in the town.
'The business community in Salcombe needs to see Wales and West remedy this as a matter of urgency and to hear how it will be compensated.'
Angela Cater from Cranch's Sweet Shop and Pantry said: 'I think there was a total lack of communication, although I understand the Plaice fish and chip shop received a letter, but we didn't. And the Victoria Inn didn't know anything about it until it started.
'One big problem is the lorries can't read the sign until after they've turned onto Onslow Road, and it's then too late for them to turn around. And so the lorries have to drive all the way into the town to turn around.
'We know the work had to be done, but there has been a lack of communication and adequate signage. It's just been really poorly handled.'
But Wales and West have claimed they 'wrote directly to homes and businesses affected by the work in advance.'
Jim Lee, Wales and West Utilities programme controller for south Devon said: 'We started work on Church Street in Salcombe on Tuesday, October 31 to replace old metal gas pipes with new plastic ones. This work is essential to make sure that homes and businesses in the area continue to receive a safe and reliable supply of gas now and in the future.
'So we can do this work safely and as quickly as possible, and so road users, pedestrians and our colleagues are kept safe while we work, we have closed Church Street. We anticipate that our work will finish, and the road will be reopened, by Friday, November 18 – before the busy Christmas period.
'Ahead of our work in the area, we wrote directly to homes and businesses affected by the work, and put up advanced warning signs on Church Street.
'In consultation with Salcombe Town Council, our team have visited businesses on Church Street to let them know about the road closure and what they can expect while we are working. We will be helping those businesses who need to receive regular delivery of goods by making sure access is available.
'Our work in Salcombe is part of our multi-million pound, 30-year gas pipe investment programme which began in 2002. Old metal pipes within 30 metres of buildings are being replaced with new long-lasting plastic pipes with a lifespan of more than 80 years, to make sure homes and businesses continue to receive a safe and reliable gas supply now and in the future.
'Wales and West Utilities has a team of more than 1,000 trained and experienced engineers to help serve the 7.5 million people across the south west of England and Wales that rely on its gas emergency and pipeline services.
'If anyone smells gas, thinks they have a gas leak, or suspects carbon monoxide poisoning, they should call us on 0800 111 999 and our engineers will be there to help, day or night.'
Comments
To leave a comment you need to create an account. |
All comments 0