Cleaning up the coast Till the Coast is Clear
Friday 4th January 2019 12:15 pm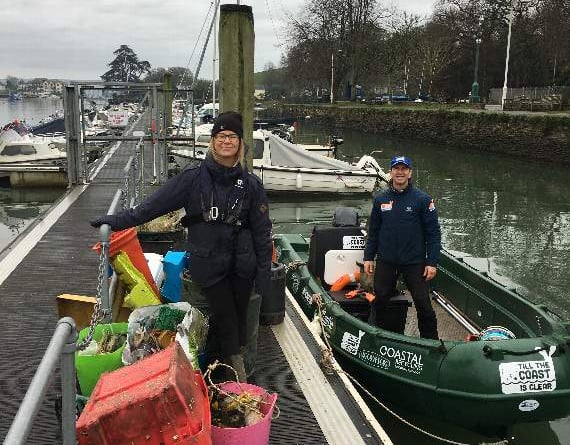 Kristen was able to see firsthand how Till the Coast is Clear operates
Subscribe newsletter
Subscribe to our email and get updates right in your inbox.
While many were recovering from the overindulgences of Christmas, reporter Kristen Bounds was getting her hands dirty in estuary mud to see for herself exactly how Gary Jolliffe and his social enterprise, Till the Coast is Clear, operates.
Having a keen interest in marine conservation and raising awareness about the global plastic pollution crisis, I contacted Gary Jolliffe when I found out about his Till the Coast is Clear initiative, and was delighted when he not only agreed to meet up and talk about it, but invited me and my friend Emily Price on his boat to help out.
Gary has been tackling the South Hams shoreline cove by cove, bringing a hands-on approach to the world's daunting marine pollution problem while creating a space for social interaction and contributing to a circular economy.
Upon arriving at the visitor's pontoon at Kingsbridge Quay, where Gary's boat, Coast Clear One, was moored, I noticed immediately the overflowing buckets and bags of rubbish he had collected from previous outings that week.
"And that's just from three trips," Gary informed us.
He then handed Emily and I our life jackets and gave us a tour of the boat, complete with various litter-picking tools and a drawbridge-style door at the front, allowing for easy access onto beaches and coves.
We started out at high tide towards West Charleton Marsh, an area of the ria known for accumulating marine rubbish due to its location.
"The main point about Till the Coast is Clear," explained Gary, "is that it's a hands-on solution to the problem of plastic and other waste that's out of site and out of mind, tucked away in the places people rarely go."
Although Gary said he had attempted to clear West Charleton Marsh not too long before, we were surprised to see how quickly it had built up again when we arrived.
We split up in order to cover as much ground as possible, but I could have easily knelt in one spot and sifted through the seaweed and earth, which was riddled with microplastics. Fast-forward 45 minutes and we had filled three buckets with crisp packets, bottles, caps, cans, lighters, endless amounts of fishing line and other plastic bits.
Although we could have stayed there all day, we decided to move on to the next spot — an area of beach off Frogmore Creek.
We soon found this beach had a significant amount of larger pieces of rubbish —everything from two petrol jerry cans and a welding mask to yoghurt containers and, most fitting, a wrapper from a German biscuit bar called a Pick Up.
More alarmingly, we noticed a large amount of fishing line buried into the shore banks and intertwined in the roots of trees and bushes, leaving us to wonder how long they had been there as nature took its course.
Gary admitted that it sometimes feels difficult to justify spending his valuable time cleaning up around the coast when he knows that in a week's time it could look exactly the same.
"However, I take heart from the huge number of other people doing their best to help solve this problem and their strength of feeling, determined as they are to help get things back on an even keel," he added.
Gary said one of the most rewarding aspects of the job is when TCC is alerted to a section of coastline and members return with a full boat. He related that, during a recent trip to Thurlestone Sands and Hallsands, they had picked up an estimated 100kg of rubbish.
"I dare say that stuff in the harder-to-reach areas has accumulated over 10 to 15 years," he said. "I can't see that happening again for a long time now it's clear, so that's a nice thing to be able to say."
Looking at the haul we managed to get in just two hours – six buckets and various bags full of marine plastics – I was proud, knowing we had saved a lot of marine life from consuming or becoming entangled in it.
When asked where the rubbish goes after TCC collects it, Gary explained that part of the initiative is getting tips from people when they find large concentrations of litter but are unable to get it out themselves, and then taking it to be recycled at a local private recycling company.
"Our ambition is to continue to do this and to ensure as much of what's recovered is pressed back into use or made into new functional products," he said.
Gary knew he wanted to work with Devon-based company Coastal Recycling because it guarantees that all waste that comes its way is either recycled or used for energy generation. Through this partnership, TCC has a 'zero to landfill' policy.
While helping the environment and local economy, Gary said he also wants to use the vessel and its mission to deliver a "social prescription" element.
He emphasised his determination to introduce vulnerable people who might benefit from being outdoors, such as those living with post-traumatic stress disorder or mental illness, "to some friendly, action-orientated people" and give them "a mission to focus on".
"We need to get as many people to fall in love with nature as possible," he added. "It's the only way it will be preserved."
When we returned to the quay, we added our haul to the pile on the dock, marvelling at how much rubbish had been collected from a mere four trips. While we were proud of what we had accomplished, the experience was a real eye-opener about how much and how fast litter accumulates along the coast.
Gary invited us back any time, adding that if anyone else is interested in tagging along, he is more than happy to accommodate them.
Gary lives in Kingsbridge, but grew up in Norway. He said his love of kayaking has brought him into close contact with marine plastic pollution and so has been aware of the issue for many years.
"I've never been able to ignore it – it's always driven me nuts," he added.
It was during a trip along the Pembrokeshire coast in Wales – the only coastal national park in the UK – that he decided to act.
He described an enormous pile of buoys, fishing line and other litter in an otherwise untouched stretch of coast, and said the idea of obtaining a boat that could get the job done in a more efficient way started to evolve from there.
Fast-forward two years and Gary is now looking after the initiative full time, having quit his job in July to focus solely on TCC.
Gary said a lot of time has been spent building relationships and working with other, similar-minded businesses, organisations and charities to combat the issue collectively. In addition to the hands-on approach, TCC is involved in an increasingly busy outreach and education program, working with organisations such as Forest and Beach at Beesands, and taking the boat to schools and shows to help get the message across.
He is currently doing consultancy work with Rockfish on supply chain sustainability, which he said is all connected to the longer term mission of transitioning from plastic dependancy.
Gary said he gets out on to the water as much as he can, aided in his efforts by local sponsors who realise there is a direct correlation between the success of their business and the condition of the environment.
Comments
To leave a comment you need to create an account. |
All comments 0