A fond farewell to local 'postie'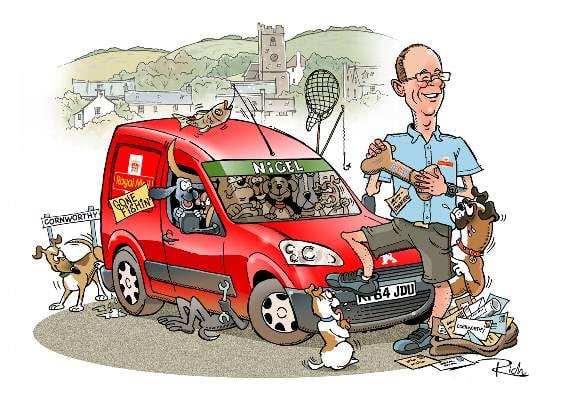 Subscribe newsletter
Subscribe to our email and get updates right in your inbox.
Village residents bid a fond farewell to popular postie, Nigel Bowhay, who has cheerfully delivered their mail for more than three decades.
Nigel was more than just a postman - described as the "eyes and ears" of the villages of Ashprington, Tuckenhay and Cornworthy, he kept an eye out for any parishioners in trouble and was for some, the only human contact they had during the Covid lockdowns.
His cheery smile, chat and banter will be sorely missed say the residents of his former round, which he ran for 36 years.
Nigel is now enjoying a well-earned retirement but before he left was treated to send-offs from gratefull villagers in Tuckenhay and Cornworthy during his final round.
In Cornworthy, he received a framed caricature by local caricaturist Richard Maby, and the proceeds of a whip round.
Parish council chairman, Cllr Tony Kirkland added: "Nigel will be sorely missed as he was more than just a postman, always friendly, willing to have a chat and looking out for people in the village.
"On behalf of the village and Cornworthy Parish Council, we wish him well and a long and happy retirement with lots of fishing."
Ali Soper who organised Nigel's send-off in Tuckenhay, said: "He will be greatly missed in our village communities.
"He was more than just a postman, he was the eyes and ears of all and if people needed help they only had to ask.
"He made sure the older people in the villages were OK and always offered a smile while he delivered the post.
"His chat and banter was very welcome, and he was the only person some people had contact with during the lockdowns as a result of the Covid pandemic."
Cllr Lydia Stocks, chairwoman of Ashprington and Tuckenhay Parish Council, said: "Nigel would check that everything was all right if he saw milk or post/newspapers that hadn't been collected, he would enquire about how people were feeling if he knew they hadn't been well, he regularly delivered a flask of soup from one pensioner to another further on in his round and returned the flask the following day, and he was renowned for doing his utmost to deliver badly addressed letters to the correct recipient."
Nigel, who was a postman for 41 years, said he would miss his round but hopes to stay in touch with the villagers as he only lives up the road in Totnes.
Commenting on the send-offs, he said: "I feel humbled to be honest, humbled that people have been so kind and so grateful.
"Looking out for people on the round is the case with a lot of us, and something that really was instilled in us by some of our predecessors.
"If you saw something amiss you contact somebody else in the village to help, and you would always call on people ad ask if they were alright."
The former King Edward VI Community College student is looking forward to a busy retirement.
"I've got a lot of work to do on the house, I've got four grandchildren, and I enjoy my fishing and just being able to do what I want to do and my wife wants to do," he said.
Comments
To leave a comment you need to create an account. |
All comments 0