Facebook message about dogs in hot cars is false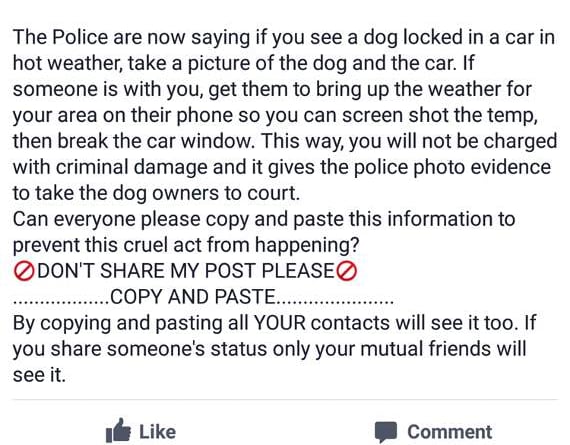 The message being shared on Facebook
()
Subscribe newsletter
Subscribe to our email and get updates right in your inbox.
There has been a message making the rounds on social media about what to do if you find a dog in a hot car, but it's untrue.
The message states: "The Police are now saying if you see a dog locked in a car in hot weather, take a picture of the dog and the car. If someone is with you, get them to bring up the weather for your area on their phone so you can screen shot the temp, then break the car window.
"This way, you will not be charged with criminal damage and it gives the police photo evidence to take the dog owners to court.
"Can everyone please copy and paste this information to prevent this cruel act from happening?"
While shared with good intentions, Sgt Dave Green, Kingsbridge Police, has confirmed that this is untrue. He said: "Police will never give a blanket assurance not to charge criminal damage. Clearly such decisions depend on circumstances at the time.
"Advice from us is to call RSPCA if you have any concerns about the welfare of dogs in cars."
The RSPCA gives advice about what to do if you see a dog in a hot car on their website, which also warns: "If the situation becomes critical for the dog and the police are too far away/unable to attend, many people's instinct will be to break into the car to free the dog.
"If you decide to do this, please be aware that without proper justification, this could be classed as criminal damage and, potentially, you may need to defend your actions in court."
Comments
To leave a comment you need to create an account. |
All comments 0