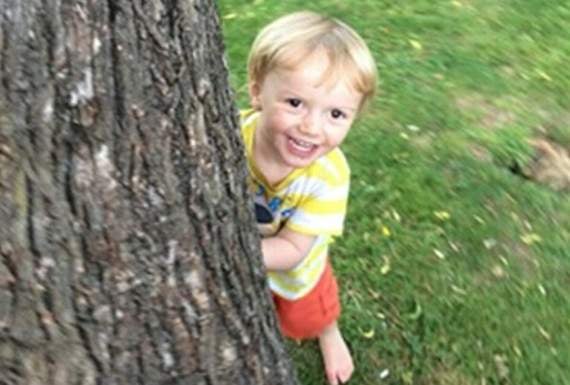 Subscribe newsletter
Subscribe to our email and get updates right in your inbox.
A drink-driver has admitted causing the death of three-year-old Reuben Williams in a car crash just before Christmas.
Andrew Vass, 31, appeared at Plymouth Crown Court on Thursday, July 12, where he pleaded guilty to causing Reuben's death by dangerous driving, causing serious injury to his mother Francesca Gould, and drink-driving.
The court was told that on December 20, last year, Vass was driving a silver Honda Civic along Plymouth Road between Avonwick and Totnes.
Witnesses describe him as "overtaking dangerously"; driving "aggressively and impatiently"; "an idiot clearly in a rush"; and getting so close to one vehicle the driver "couldn't see his numberplate", plus Vass moving from one side to the other in an attempt to pass him.
Between Vass overtaking the last witness and the scene of the crash was a two-and-a-half-mile straight, where the court was told he accelerated to between 71mph and 79mph on the national speed limit road.
At the end of the straight, at a slight right-hand-bend, Vass lost control of his car. Ms Gould and Reuben were travelling in a Volvo in the opposite direction, on the way to see Ms Gould's parents.
When Vass lost control of his car, it veered across the road, and hit a bank, before spinning and hitting the bank again with the rear of the car, which launched it into the air. The car landed on Ms Gould's bonnet and roof, flattening her Volvo on the passenger side.
Three-year-old Reuben was sitting in a car seat, on the passenger side in the back. He suffered head injuries and was killed instantly; Ms Gould suffered a badly broken right arm that required surgery; and Vass walked away with just minor injuries.
Vass had been working as a ground worker at the Bloor Homes development in Modbury and had been with colleagues, including his passenger at the time of the crash, Paul Mosley, in a cafe to celebrate their last day of work before the Christmas break.
Vass was seen drinking from a small bottle of lager around 11am, and had been drinking the night before. A blood test taken around four hours after the crash showed he had 98mg of alcohol in 100ml of blood. The legal limit is 80mg.
The driver of the last vehicle Vass overtook pulled him from his Civic, which had come to a rest on its roof, and witnesses described hearing Ms Gould "screaming for Reuben" before she was airlifted to hospital. Her arm was operated on and she was discharged two days later.
Police accident investigators found the Honda Civic had two rear tyres with less than the legal amount of tread, with one having a "large area of baldness that covered the whole circumference". They found no other mechanical defects that could have contributed to the accident.
Reuben's mum, Ms Gould, his dad Tom Williams and his grandparents, Simon and Susan Williams, read victim impact statements to the court, reducing many members of the public in court to tears.
Ms Gould said: "I kept asking people to stop trying to look after me and go look after Reuben. They didn't seem to listen. I didn't understand that he was dead.
"Once I was on a stretcher, someone asked me if I wanted to hold his hand, I did, and I still didn't understand he was dead.
"I was responsible for looking after Reuben; on that day and as his mother always. I will still always struggle to feel like I did my job as a mother that day. Now I am a mother who no longer has a child.
"My life feels empty now, without him to care for and play with. I loved having my little sidekick.
"It is not just me and my life that has been impacted by the crash, my family have suffered a great loss. My friends and the local community are all still reeling from the shock.
"Friendships with other parents will never be the same, as we no longer share the parenting of children of the same age.
"It feels like every minute of my life has been altered by Reuben's death. There are no toys under my feet, there is no toddler chatter, no wild child to play with, to feed, to comfort, to bathe, to put to bed."
Mr Williams said: "I grew myself around him like ivy to a tree, and he grew to me for support, he climbed me, he found his spot and established himself, never far away, always close to his nest.
"He lived on me like a louse, he was always there, always present, always jabbing his foot into my ribs, always slugging around my shoulders, always tucked into my arm. The boy on my back.
He explained how he found out there had been an accident involving his family. He said: "I was at work. The head of customer services brought me the message, she looked shaken. I was calm. I started calling my family, partner, parents, brother, partner's parents.
"Frankie was absent, she was expected to be somewhere she wasn't, she didn't answer the phone.
"I started calling A&E departments to find out about admissions with our names, but A&E departments are busy and I got nothing. Thirty, 40, 50 minutes, still trying not to draw conclusions, still calling her phone.
"I set off from work to the crash site. I stop and call the police, 'injured have been taken to Plymouth'. I head to Plymouth. The police call. They're at work, they want to escort me to the hospital, they're trying to find me on the road and want to know what my car looks like.
"I provoke a response from them about the news, 'we'll talk face-to-face, but it's not good' is what I get. An ambulance overtakes me, no lights, no sirens. I know someone is dead. I harden myself.
"I get to the hospital, I find the police in the ambulance bays and receive the news that my child is dead.
"Nothing is real, I have no bearings, no landmarks to adjust myself to, nothing to grab hold of to slow my decent. I cry.
"I carve a coffin, it takes a metric ton of wood, it takes a month. We put him in the ground. At the grave I press mud between my fingers, I squeeze mud into the sores on my hands where they were used to mould the wood, where they were used to carry his lifeless body to the coffin.
"He folded in an odd way, not like when he was asleep, its not what I am used to, not like a child. I sing to him.
"My arms ache, not from the weight of carrying a little person everywhere I go, not from the uncourteous wrangle of limbs, not from the sweaty heat of a sleeping cheek pressed to me, but the absence. The constant, unforgiving absence.
"He is not replaceable, he is not duplicatable, he is not get-over-able, and I hope that the lack of him impacts Andrew Vass in a way that means something, on a daily basis, in the same way that his actions have enforced a sentence on me. I now life with a void.
"I have little left of Reuben, some photos, his toys, his clothes, they're all so static, so shallow. I miss his vibrancy, I miss his excitement and sadness.
Ms Gould and Mr Williams had spent the day before preparing to move house to somewhere with a new room for Reuben.
Paul Dentith, for Vass, told the court that the defendant held a clean driving licence and had not fled the scene, despite being encouraged to by his passenger.
He said Vass sat on the verge after being pulled from the car, crying and saying 'what have I done?' and despite his passenger saying "let's go", he remained sitting on the verge.
He said Vass had replaced a previous significant drug problem, that he had substituted with alcohol, and that he was "devastated" over causing the death of a child and said: "I don't want people to think I don't care. I did it, it was my fault and I deserve what I get".
The court was told Vass had 13 previous convictions, including burglary and theft, and was out on licence at the time of the crash from a conviction of manslaughter. He was part of a group who chased down a 63-year-old man on a bicycle who fell and suffered a fatal head injury in Pontynewydd, Wales.
Judge Peter Johnson passed on his condolences to Reuben's family, and stated that Ms Gould "bears no responsibility" for the crash, and had done "everything possible to keep Reuben safe".
He told Vass he was now responsible for the "death of two human beings" - although that hadn't been his intention.
Vass was sentenced to five years and four months in prison for causing death by dangerous driving; 20 months for causing serious injury by dangerous driving; and one month for drink-driving, to run concurrently.
He was also banned for driving by two years, extended by 32 months to cover his time in prison.
Comments
To leave a comment you need to create an account. |
All comments 0